If you are wondering what is the price of CoolSculpting, then you are in the right place. Read on to find out!
At a Glance:
CoolSculpting is an FDA-approved, non-invasive body contouring technology that eliminates fat cells by freezing.
According to a 2015 review, it's concluded that CoolSculpting offers a 25.5% to 28.5% fat reduction on target areas.
The procedure is based on the science of Cryolipolysis to destroy fat cells; hence, it has no serious side effects.
The average price of CoolSculpting ranges from $2,000 to $4,000.
For anyone who wants to get rid of stubborn fats in their body but don't want to undergo painful cosmetic surgical procedures, there are non-invasive alternatives that promise amazing results. One is CoolSculpting.
With more than 7,000,000 procedures performed worldwide, CoolSculpting is proven to be an effective and safe fat removal technique.
But how much does it cost? And is CoolSculpting really worth it?
This article covers everything you need to know about CoolSculpting, such as the costs, benefits, risks, and expected results.
What Is CoolSculpting?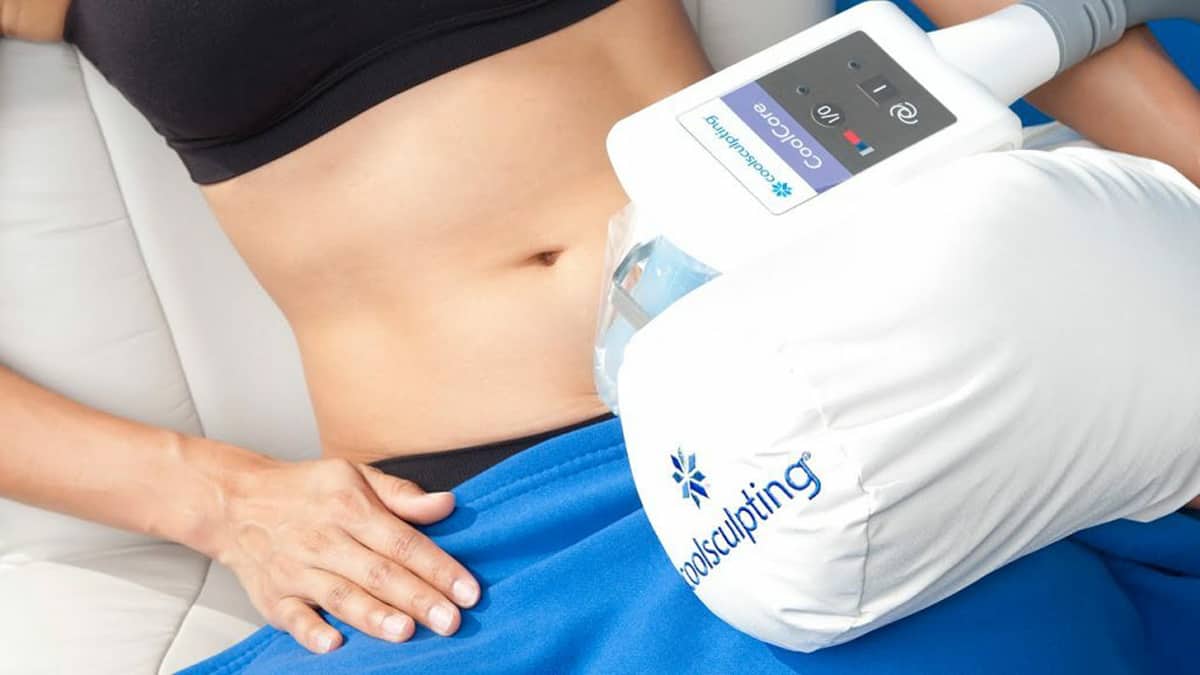 If you are new to CoolSculpting, this is a new non-invasive technology that works to remove stubborn fat in various parts of the body. It is a branded and FDA-approved form of Cryolipolysis that breaks down fat cells using freezing temperatures.
The treated fat cells are crystallized and completely destroyed. Once the procedure is done, fat naturally flushes out of the system, and the patient can see results in about 3 weeks to 2 months.
One of the benefits of this procedure is that it requires no downtime and is one of the effective non-surgical methods for losing stubborn fat. For this reason, CoolSculpting has become a popular and effective body-contouring procedure.
Contrary to popular belief, this procedure is not a weight-loss method. It is meant to be a treatment for visible fat bulges in the abdomen, thigh, underneath the buttocks, submandibular areas (under jawline), and submental areas (below the chin).
How Much Does CoolSculpting Cost?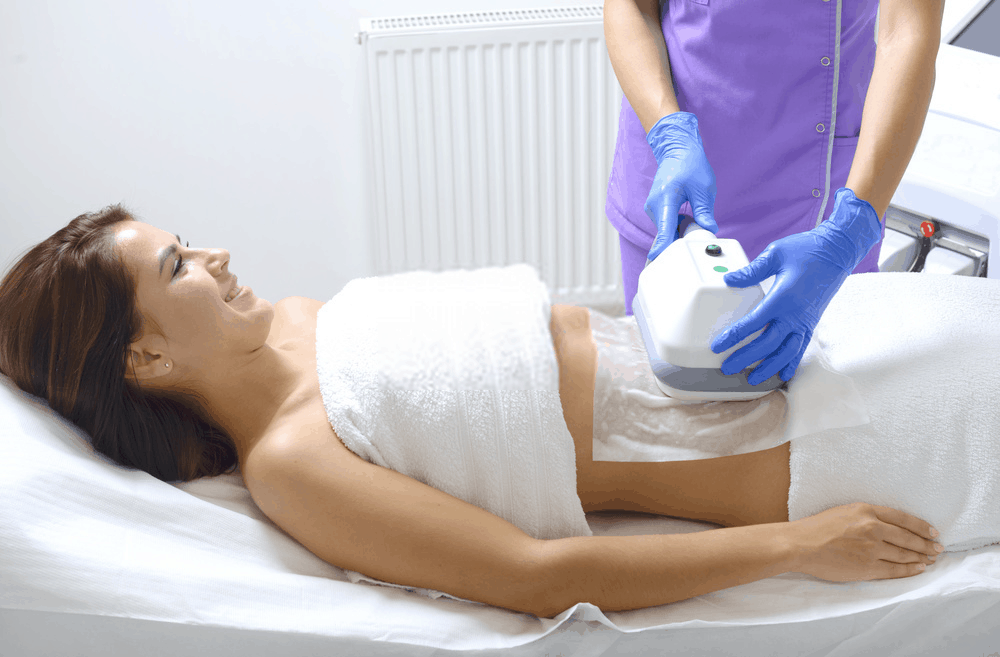 Now that you have an idea what CoolSculpting involves, you must be wondering, "how much does CoolSculpting cost? Is it expensive?"
Surprisingly, this groundbreaking technology is considered less expensive than other fat removal methods in the market. In most cases, the cost of CoolSculpting depends on the extent and number of target areas.
As with most cosmetic procedures, the CoolSculpting treatment must be personalized and tailored to the patient in question. This is because each client is different and has varying goals and target areas.
Basically, CoolSculpting cost greatly varies with certain factors including:
The treatment provider
Number of treatments
Size of applicator used
Areas of concern
The geographical location of the treatment provider
To give you an accurate estimate, most providers will want to assess your body first then evaluate your end goals.
Typically, the cost of CoolSculpting will depend on your personalized treatment plan, such as how many areas you want to be treated and how much fat you have. Nonetheless, the average cost of CoolSculpting procedures, as stated by the CoolSculpting Official Website, ranges from about $2000 to $4000 when the procedure is done to multiple parts of the body.
On the other hand, CoolSculpting treatments applied to a single part of the body can cost around $500 to $1,200. Also, it should be noted that the price of CoolSculpting ranged anywhere from $450 to $4,600, with the average price being $2,450.
Cost of CoolSculpting for Arms
CoolSculpting can also be used to remove stubborn fat for the arms, with the price for CoolSculpting both arms ranging from $650 to $800. One session can last for about 30 minutes and is enough to get you the results you desire.
Cost of CoolSculpting for Chin
Most providers offer CoolSculpting treating for both the double chin and under the chin area.
Double chin area – For the double chin area, the treatment cost is estimated to be about $1,400 and the session can last for 30 minutes.
Under chin area – The treatment providers can also provide treatment for under chin areas at an average cost of $1, 400.
Cost of CoolSculpting for Abdomen
Typically, the cost for an abdomen CoolSculpting procedure depends on the thickness of the fat layer you want to freeze as well as the number and size of applicators used. The average price of CoolSculpting the abdomen can go for about $1,500 per session.
Cost of CoolSculpting for Thighs
CoolSculpting for the thighs varies with the treatment provider and whether you want to get treatment for your inner or outer thighs. In most cases, the outer thigh treatments cost more than the inner thigh treatments.
Inner Thighs – The cost of treating the inner thighs is estimated to be $750 per thigh.
Outer Thighs – As for the outer thighs, you can spend up to $1,500 per thigh.
If you are looking to treat both legs, you can expect to spend around $4,000. Each of these treatments is estimated to take about 35 minutes.
Cost of CoolSculpting for Neck
There is not that much of a difference between the CoolSculpting price for the neck and that of the chin. Since it involves a small surface area, the cost could range from $600 to $1,400.
Cost of CoolSculpting for Stomach
There is no denying that a good number of people struggle with stomach fat, and this makes CoolSculpting for stomach a common procedure. A good candidate for this procedure is one who is struggling to eliminate stubborn stomach fat but is not very far from their ideal body weight.
The estimated cost for the procedure is $1,500 for every treatment session. This area has one of the highest pricing ranges because of the large surface area and the size and number of applicators needed. As for the number of treatment sessions, two visits are recommended, with each session lasting between 35 and 60 minutes.
Cost of CoolSculpting for Love Handles
The treatment for love handles is estimated to be around $1,200 to $1,400 and is usually done in two cycles.
The high price is due to the treatment involving the use of a large applicator to treat the large surface area. The provider could use one applicator to treat each side at a time or use different applicators to treat both sides at the same time.
Cost of CoolSculpting for Various Areas
The following is the CoolSculpting price list for various treatment areas:
CoolSculpting Prices List
Here's a list of CoolSculpting price estimates:

CoolSculpting Prices List in Clinics (US)
Are There Ways to Reduce Cost?
Yes, there are several ways that you can reduce costs and save a few bucks on your treatment. One way is to consider treatment packages that offer discounts on the overall CoolSculpting cost.
Another great way is to look for providers who offer interest-free payment plans. It is still a good deal if they charge interest rates on their financial plans, as making payments can help lower the upfront cost.
Besides, you can take advantage of CoolSculpting specials that can help you save a significant amount.
Final Thoughts
All in all, CoolSculpting is a great and safe alternative to conventional surgical procedures like tummy tuck and liposuction. The procedure has fewer side effects – like a delayed onset pain – and can guarantee long-lasting results. Nonetheless, you'll have to maintain a healthy lifestyle so you can maintain the results and enjoy an improved body for a long time.
Also, make sure that you get the procedure done by a certified professional to help you attain your body contouring goals.
---
FAQs:
Is CoolSculpting Worth The Cost?
There is no denying that CoolSculpting has grown in popularity over the years and garnered media attention due to its positive results. According to reviews by customers, 82% of patients who have used CoolSculpting say that it is worth it.
The procedure is backed by research, and there are numerous reviews of customers saying that it delivered its promised results. For instance, people who undertook this procedure for the arm areas are likely to achieve 25% fat reduction while treatment for thighs can result in around 20 to 80% fat reduction.
CoolSculpting also guarantees exceptional results for other body areas like the neck, chin, belly, and stomach. However, other areas like the stomach may require several sessions to effectively eliminate unwanted fats.
Besides, numerous benefits that can be accrued from CoolSculpting. They include the following:
Non-invasive – As mentioned earlier, this is a non-surgical procedure that is not only safe but also requires no downtime. It also has fewer side effects.
Long-lasting results – Once you have undergone the procedure, you can expect lasting results, especially if you maintain a healthy lifestyle. This body contouring treatment is designed to kill and destroy fat cells so that they will be gone for good.
Convenient – Unlike surgical procedures, this fat reduction method is very convenient as some treatments can take just 30 minutes.
Widebody coverage – The other benefit is that this procedure can be used to treat various body parts including stomach, neck, chin, love handles, and more.
Is it Covered by Insurance?
CoolSculpting is a cosmetic treatment that patients can opt to get voluntarily. For this reason, the procedure is not covered by insurance providers.
Nonetheless, you can check with your treatment provider to determine whether they have any payment plans or discounts. Providers that offer financing options can help you offset the treatment costs.
---
Sources:
TopLiposuctionCost has rigid sourcing guidelines, as we only refer to authoritative sources peer-reviewed studies and medical and academic research institutions. Read our "editorial policy" to get an idea how strict we are in sourcing our content.