At a Glance:
Ultrasonic Cavitation is a type of procedure that converts fat cells and liquefies them, similar to the process of lymphatic drainage so that the body can easily be drained by its filtration system.
Ultrasonic Cavitation is in the line between affordable and expensive, although the price may vary depending on the area that is being targeted, how long the procedure would take, and most especially the clinic itself.
It would take about 6 to 7 sessions to see its results compared to the traditional liposuction treatment that results will be noticeable right after the procedure.
Technology nowadays has been at its pinnacle in terms of innovation and invention. Advance gadgets, machines, and even transportation are popping out to provide people an easier lifestyle and comfort.
We must admit, we tend to be lazy to go to the gym and burn those unwanted calories and fat. Most of us tend to look at different options and find innovative solutions on how to lose weight and get in shape in just a few minutes. Thanks to our advanced technology, people discovered a way to help us get that summer body that we want and that is through the Ultrasonic Fat Cavitation.
But does this treatment works? Is it worth it? How many bucks do we need for this treatment? Are there any side effects right after? Many questions will be popping out on our heads especially for those who are unfamiliar.
This article, it will guide you what is Ultrasonic Cavitation, how does it work, are there any implications and side effects after the treatment, etc. All those questions that are bugging you regarding this treatment will be answered.
What Is Ultrasonic Cavitation?
Ultrasonic Cavitation is a type of procedure that burns out those unwanted fat cells. Think about those fats that are found on your arms, thighs and most especially our waist, those areas are the common spots of those unwanted fats. It uses high-frequency ultrasounds to not only burn those fats but to liquefy them.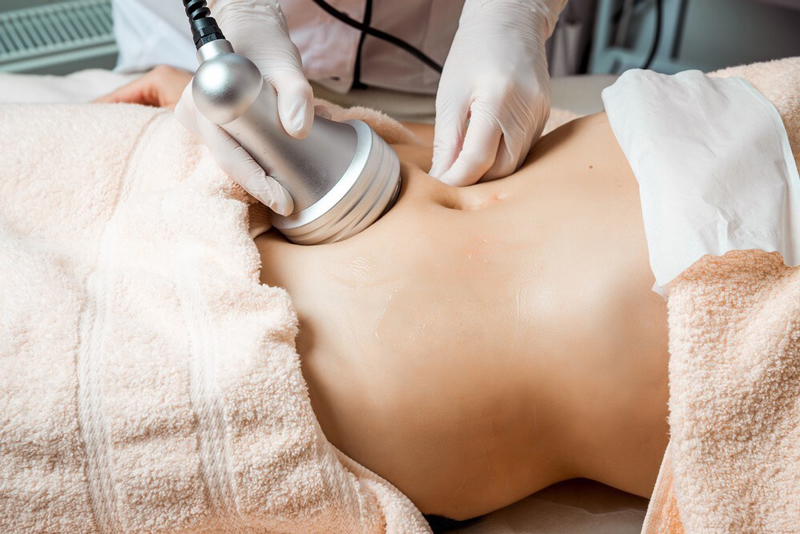 Ultrasonic Cavitation Treatment:
Ultrasonic Cavitation liposuction is a type of cosmetic surgery that is similar to the traditional liposuction treatment although this type of treatment is a non-invasive and non-surgical one. This procedure helps liquefies fats for easy excretion away from the body however, only certain areas are being targeted and this type of treatment is not a tool for weight loss reduction.
This procedure also helps the collagen tissues regroup and contract with each other making the skin firm and tight outside and also helps repair skin cells at a cellular level.
Ultrasonic Cavitation for Cellulite Treatment
Women may notice lumpy flesh found in their thighs and hips. Those are what we call cellulite. Cellulite is common to women and ultrasonic cavitation has proven effective for cellulite treatment. Cellulite is accumulated fat and with the use of ultrasound, it will minimize that cellulite until they will fade away.
How Many Ultrasonic Cavitation Treatments Are Needed?
Unlike liposuction that would guarantee a result after one treatment, Ultrasonic Cavitation would take you about a maximum of 12 treatments or sessions for guaranteed results, however, during your 6th session/treatment, results would start to show off.
How does Ultrasonic Cavitation Works?
Ultrasonic Cavitation uses a low-frequency sound wave that is targeted to specific body areas. Once it is placed, it produces and processes heat and vibrates the layer of fat below the surface of the skin of that particular area. The vibration also creates a pressure that causes fat cells to liquefy and release its contents into the bloodstream and eventually, it will be released outside the body.
Does Ultrasonic Cavitation Works?
Yes. Ultrasonic Cavitation has proven its effectivity in terms of body shaping and reduction of fat in certain areas of the body. The ultrasound that the machine releases high energy ultrasound waves by making converting the fat to fatty acids and the body will consume it and eventually excretes it.
It would also tone and tighten those areas that were targeted by the ultrasound but keep in mind that a well-balanced diet will help it improved more of its work.
How Much Does Ultrasonic Cavitation Cost?
The cost for a session of an Ultrasonic Cavitation treatment would vary depending on the areas that are being targeted and how long would it usually take. The cost would also vary depending on the clinic that will be treating you so better prepare enough bucks for this treatment.
Average Cost of Ultrasonic Cavitation Treatment:
An average cost of an Ultrasonic Cavitation would take you $250 to $500 but that price might go up and vary depending on how much treatment that particular body needs.
Ultrasonic Cavitation Laser Treatment Cost:
Aside from ultrasound waves, Ultrasonic Cavitation has laser treatments that would cost you at an average of $300 or more depending on the area that needs to be treated.
Ultrasonic Cavitation Cost Per Treatment/Session:
A treatment of ultrasonic Cavitation would cost you $85. However, there are a lot of areas that can be treated by an Ultrasonic Cavitation. Below is a list of areas that can be treated.
Ultrasonic Cavitation Cost For per Area:
Each area of our body plays a different role and so does Ultrasonic Cavitation. The cost of an Ultrasonic Cavitation session would differ depending on the targeted area.
Abdomen – Most people love to tone down their abdomens for better physical appeal. Almost all clinics say abdomen is the most targeted area when being treated for fat loss procedures. One session would cost you for about $85 which is not bad although some clinics may offer you a much higher price.
Flanks – A common ground for unwanted fat. This is also a must targeted area for Ultrasonic Cavitation and that would cost you for about $85.
Arms – Most people want to achieve a perfectly toned arm and they would do anything they can to achieve such a goal. Ultrasonic Cavitation can help you but it might cost you around $115.
Thighs – Cellulitis is most commonly found in this area and Ultrasonic Cavitation is a must for this. Prepare about $500 for multiple sessions.
Hips – Hips don't lie. Women are very critical when it comes to this part. A common area for Ultrasonic Cavitation would cost about $110 per session.
Waist – Women and men are kind of obsessed when it comes to achieving a perfect number of waistline. Fats are usually deposited here and to get rid of them, it would cost you about $500 to $1000 for multiple sessions.
Buttocks – Women are best known for this type of area and if you're a woman, it would cost you about $160 for one session.
Chest – Having problems of your fats along in your chest? It's quite difficult to tone it as it requires a lot of weight in the gym but this procedure would help you achieve and get rid of those unwanted fats in your chest area. Around $100 would cost you one treatment.
Knees – An uncommon area for Ultrasonic Cavitation but did you know that there are unwanted fats that are found on your knees? It would cost you about $85 per treatment for this area.
Ankles – Similar to knees, unwanted fat is also found in the ankles and this type would cost you around $240 for multiple sessions.
Back Fat – An area where fat is deposited but it is also important to get rid of it since it would affect your posture. One session would cost you about $55 which is not bad.
Bra Fat – Bra fat is uncommon but should not be neglected after all. Around $300 to $700 would cost you for multiple sessions.
Chin – People, especially women, are having a difficult time getting rid of their chin. This is the perfect procedure if they want to achieve those eye-catching jawlines and v-shaped chins and one session would cost you for about $100.
Ultrasonic Cavitation Prices List
The cost of Ultrasonic varies on which particular area you want to be treated. An average would cost you $100 more or less for one session and more than $500 for multiple sessions. It may not be the same as liposuction however invasive procedure guaranteed. If you're planning to have a session of an Ultrasonic Cavitation, below is the list of areas to give you an idea.
Is Ultrasonic Cavitation Covered in Health Insurance?
Ultrasonic Cavitation is not covered by health insurance because it is considered elective and aesthetic but no need to worry because this kind of treatment is FDA approved.
Ultrasonic Cavitation Results: What to Expect?
Right after your first Ultrasonic Fat Cavitation, results will not be noticeable but the area that is being targeted will slightly be contoured and the area will be slightly reduced due to the decrease or elimination of unwanted fat cells.
Optimum results will only be highly noticeable once you continuously attend sessions at your doctor's prescribed sessions however we must keep in mind that there are still factors that may wary like age, weight, and the area that is treated.
What you can expect from this treatment is that it is no invasive, therefore, no needles and other invasive procedures before and during the treatment and guaranteed pain-free. What makes this procedure one of the best options you can consider is that right after the treatment, you can return to your daily work routine immediately.
Expect immediate results right after your first session but it is recommended to have not just one session for results to blossom. You will also notice that your skin will be tight and smooth and cellulite reduction will also be noticed. Loss of fat will also be noticeable which indicates that toxins are removed.
How Long Do The Ultrasonic Cavitation Results Last?
A well-balanced diet and an active healthy lifestyle should prolong the results of an Ultrasonic Cavitation treatment. Remember, it doesn't destroy fat cells, it will only liquefy them for easy removal outside the body. If bad habits persist, then another treatment of Ultrasonic will be performed or maybe other procedures will be recommended and that is a lot of cash to be used.
How to Maximize Ultrasonic Cavitation Results?
Right after you complete your first session, start a healthier lifestyle. Have a well-balanced diet by avoiding fatty and sugary foods, have and do exercise, whether running around or enroll yourself in the gym.
A healthy lifestyle would also indicate that it might reduce your Ultrasonic Cavitation sessions since there is less fat to be excreted. We can't fully excrete our fat since we need it. Only those bad and unwanted fat cells only.
Ultrasonic Cavitation Risks: Is Ultrasonic Cavitation Harmful?
Ultrasonic Cavitation does not impose any harmful effects to your body unless you have risks before the treatment. The best way is to consult first before the treatment so the doctor can assess whether you are fit or not.
Is Ultrasonic Cavitation Safe?
It is safe since it is FDA approved, comfortable to perform to the patient and it's non-invasive. It is only designed to target the fatty tissues underneath the skin and nothing else.
The Side Effects of Ultrasonic Cavitation:
Ultrasonic Cavitation does not impose side effect since right after the treatment, you can go back to your daily routine immediately unless you have sensitive skin, you might experience a mild bruise or some would experience nausea, increased thirst, and slight headache but those are on very rare occasions and will only last for a few minutes. Contact your doctor or the clinic so they can assess you better.
Ultrasonic Cavitation Reviews: Is it Worth It?
Below are some of the patient's reviews after they underwent Ultrasonic Cavitation Treatment. According to RealSelf, an average of 56% says it worth it, which indicates that more than half were happy and contented with the results.
Those who underwent Ultrasonic Fat Cavitation reviewed their experience as "pleasant and relaxing". Results were not visible after the first session but right after more than the session performed, it was already visible and noticeable which is also a not waste of money and worth the treatment.
Ultrasonic Cavitation Liposuction treatment was also reviewed as a no-fail treatment because right after several sessions, results can already be seen. They were also advised that to maintain the results, they were told to drink plenty of water and indulge in healthy food.
Ultrasonic Cavitation Cellulite treatment also testifies that it works just as wonderful as it can be since it not only lessen the cellulite formation but it also made their skin firmer and tighter making them confident as they can be outside.
Ultrasonic Cavitation Clinics Near Me
If you're living in New York or Chicago, several clinics offer Ultrasonic Cavitation. These clinics are certified the best in terms of service and customer interaction.
New York City
If you reside in New York, check out these clinics:
Trifecta Health Downtown (4 out of 5-star review) – 115 Broadway, New York; Contact Number: +1 212-233-2830; Business Hours: 9:30 AM to 7:00 PM (Monday, Thursday and Friday), 9:30 AM to 7:30 PM (Tuesday and Wednesday).
Paris Medical Aesthetics (4.5 out of 5-star review) – 330 Pearl St. New York; Contact Number: +1 917-327-0269; Business Hours: 11:00 AM to 7:00 PM (Sunday to Thursday), 11:00 AM to 2:00 PM (Friday).
Petals Laser Lounge (4.5 out of 5-star review) – 62 William St. New York; Contact Number: +1 212-363-5555; Business Hours: 10:00AM to 7:00PM (Monday to Friday), 10:00AM to 6:00PM (Saturday).
Chicago
If you reside in Chicago, check out these clinics:
Absolut Body Contour (5 out of 5-star review) – 34 E Oak St. 4th Floor, Chicago, Illinois; Contact Number: +1 877-837-2639; Business Hours: 10:00 AM to 7:00 PM (Tuesday, Thursday and Friday), 10:00 AM to 6:00 PM (Wednesday), 9:00 AM to 5:00 PM (Saturday).

Dvida Med Spa (4.8 out of 5-star review) – 507 N Wells St. Chicago, Illinois; Contact Number: +1 312-374-3352; Business Hours: 10:00 AM to 5:30 PM (Tuesday), 10:00 AM to 7:00 PM (Wednesday and Friday), 11:00 AM to 7:00 PM (Thursday), 10:00 AM to 4:00 PM (Saturday).
Chicago Body Sculpting (4.5 out of 5-star review) – 2150 S Canalport Ave, Chicago Illinois; Contact Number: +1 708-759-6435; Business Hours: 10:00 AM to 7:00 PM (Monday to Saturday).
How to Find a Provider?
Finding the right provider is a tough one as you'll consider its reputation and the work that they have done for others. To find a provider, below are some key points that will help you.
Visit Its Facility In Person
It is very important that you should visit the facility in person so you'll see and know its location, the people who are working inside, and most importantly, the cleanliness of the facility.
Take Some Advice From Others Who Had Undergone The Procedure
If you know someone who went the same treatment, don't hesitate to ask so you'll have an idea of their experience and see the results personally.
Don't Hesitate To Ask Before And After Photos
Facilities that have this kind of treatment should have photos of their patients who undergo the procedure. It is not about confidentiality because clinics should not take their entire image but only the areas that were being treated.
Ultrasonic Cavitation Machine
There are a lot of medical clinics that offer Ultrasonic Cavitation treatment and to perform that one of a kind treatment, they need a machine that can help them treat their patients. These machines are safe and very effective.
However, seek from a professional or let a professional perform and utilize the machine for you. It is not about now wanting people to utilize it on their own, but it is better to seek professional advice before using it.
The Ultrasonic Cavitation Machines price from an average of $1,000 or even higher depending on what the machine has to offer. However, if you're looking for these machines or similar to it, we will provide you some of the best machines to be used at your own pace.
Portable Handheld High Frequency
This portable machine is a must buy if you want to reduce your acne, wrinkles and dark circles around your face. It has four (4) tubes which you can utilize around your face. This handheld machine releases high frequency to correct and prevent facial imperfections and what's more captivating with this product is that it will only cost you $40.
Portable 5 in 1 Ultrasonic Cavitation Machine
This Ultrasonic Cavitation Machine is simply one of a kind because it is equipped with 3d Smart RF. It can also be used for body slimming, body shape, Facial sculpture, and body contour. It's a kind of equipment that has it all. Price is $1,300 but it's worth the purchase.
3 in 1 40k Mini Led Ultrasonic Machine RF
This machine has a 40KHZ burst head that is capable of omitting waves to the skin to help remove and liquefy those fat cells. It also has specifications for skin tightening, smoothing, and whitening skin.
3 different operation heads are included so consumers can choose which one they want to use and this is also to accommodate different demands in the market.
Does Ultrasonic Cavitation Work At Home?
Having an Ultrasonic Cavitation would make your wallets cry. This is because you have to take several sessions to guarantee its results but nowadays, there are inventions from different manufacturers where you can have your Ultrasonic Cavitation at home.
Although not the same that are those in the medical spa or clinics, these are portable ones which can guarantee on achieving your desired sculpture. Just don't forget to have to eat healthily.
Ultrasonic Cavitation Alternatives
There are a lot of alternative solutions treatments aside from Ultrasonic Cavitation. These treatments may be invasive or require surgery but it would give you the best results. The price will still vary depending on the treatment and the clinic that will be hosting you. Here are some alternatives where you can choose from.
Non-Invasive Body Sculpting/ Contouring Treatments:
CoolSculpting – is a kind of cosmetic treatment where it removes body fat to certain areas through the process of freezing fat cells to break it.
Vanquish Fat Removal – a non-invasive procedure that is commonly used in the abdomen that uses radiofrequency to eliminate fat cells.
UltraShape – a treatment for body contouring that uses ultrasound for fat reduction. It usually targets the flanks and abdomen.
SculpSure – a non-invasive treatment that is designed to reduce fat in the flanks and abdomen.
VelaShape – another non-invasive treatment that uses a combination of infrared light, bi-polar radiofrequency energy, and vacuum for fat and cellulite reduction.
Zerona – a body contouring treatment for men and women which uses cold laser treatment for weight loss and body slimming.
Surgery Procedures:
Laser Lipo – a minimally invasive procedure that uses fiber-optic lasers to melt away fat under the skin. The well-known clinics, such as Sono Bello, offer this treatment.
Tummy Tuck – or abdominoplasty, which is an invasive procedure that flattens the abdomen by reducing extra fat and skin and also to tighten muscles.
LipoLite – a plastic surgery that removes extra fat from the body. It helps improve body shape and contours the body as well.
The Bottom Line
There are a lot of alternative treatments, including Ultrasonic Cavitation, which their goal is to provide alternative ways of getting shape. Yes, it is effective and safe however we should learn not to rely on these kinds of procedures if we cannot maintain and help ourselves promote a healthy and active lifestyle.
The money that will be spent on a single session or more is nothing if we keep eating unhealthy and living unhealthy as well. If we seek this kind of treatment, let us help ourselves in marinating in for the long run.
Lastly, discipline and hard work are still the keys if we want to achieve what we want and it pays off when you're able to reach it.