At a Glance:
Compared to liposuction and CoolSculpting, prices of AirSculpt treatments are in the mid-range with lower costs compared to Liposuction but a bit higher compared to CoolSculpting.
Airsculpt treatments can be done on any part of the body that has excessive deposits of fat. Airsculpt stomach treatments are the costliest and cheapest ones include arm and chin treatments.
AirSculpt treatments are less risky as they do not require as practitioners aim for minimal disturbance on the skin with an eye for achieving optimum results.
AirSculpt is a minimally-invasive fat-removal and contouring procedure targeting specific areas of the body. It works by plucking fat off, cell by cell, without leaving any noticeable scars. Results are achieved in as little as 20 minutes.
The procedure promises to give a person the body shape that they have been wanting badly without having to go under anesthesia. Patients are treated fully awake.
The physician will give you a schedule for the treatment and explain the whole process. You will know exactly what to expect and all the steps of the procedure.
They will first give you some meds to make you feel relaxed and calm. Afterwards, small incisions will be made on the area to be treated. Through these incisions, a numbing solution will be infused.
They will then proceed to melt the fat inside the target area by using laser. The dissolved fat will then be removed with the use of a cannula.
This is a minimally-invasive process, and all you will feel on your skin is a small popping sensation. There will be no stitches to be applied at the end of the treatment.
The whole process takes roughly around 25 minutes to finish, which is a very short time for any treatment of this type to undertake. After that, you will see the big change you probably have been waiting for the longest time.
If you cannot directly see the area treated with your eyes, such as in the case of a chin AirSculpt, they will give you a mirror. Then you will see all the lumps in your chin are gone and replaced with taut skin that reveals the beautiful outline of your jaw.
How Much Does AirSculpt Cost?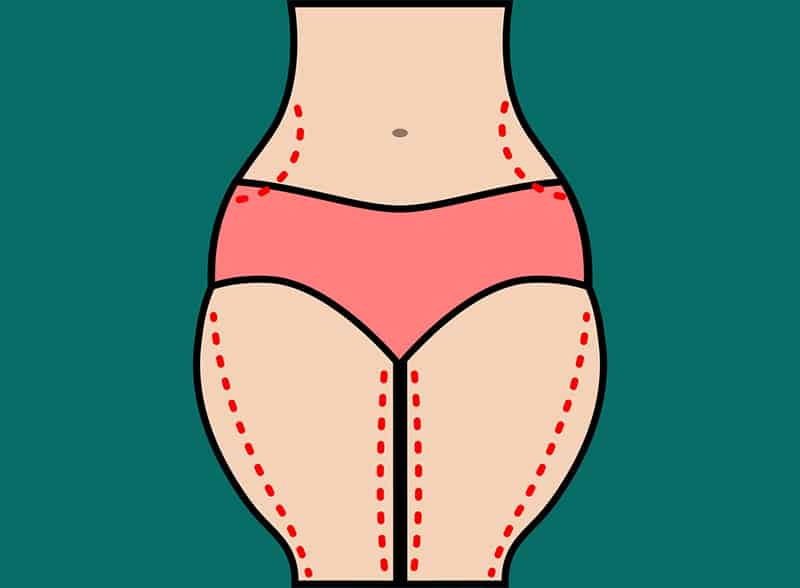 First of all, pricing depends on the body area to be treated. Generally, it costs a couple of thousands of US dollars for each body area, except the torso, which is really pricy. That's understandable because the torso has the largest surface area to be covered by such types of treatment.
As an example, an arm treatment costs about $2,000, and because people have two arms, the cost can double up to $4,000. There is a price table below to help you come up with a reasonable estimate for your own treatment.
As costs are not fixed because they depend on the patient's condition, your specialist may implement price changes as you go along with the procedure. So, make sure you have a good estimate right from the start.
Pricing is based on the individual, the area to be covered, the time it takes to get the entire job done, along with other factors that the specialist will consider.
Here are real-life examples. One Hollywood singer took a treatment for her chin and abdomen ahead of her TV comeback. She revealed that cost starts at $5,000 per body area.
A patient from Manhattan, New York wrote in a forum that she received a BBL Airsculpt treatment. In her case, the original charges amounted to $16,000, but she was unhappy with the result and threatened to file a lawsuit.
The service eventually fixed the lumps and dents that the patient was complaining about, but later, they slapped her with an additional charge of $10,000.
These examples can help you figure out a good estimate of how much your own treatment will cost, yet the actual price will still depend on your physician's assessment.
For cost comparison, check the average cost of other treatment types – like CoolSculpting and liposuction.
The average per-area cost for Air Sculpting services fall in the range of $2,500 to $5,450, which is a little more expensive compared to CoolSculpting's average of $2,000 to $4,000. Traditional liposuction's average cost is placed at $3,500.
Cost of AirSculpt for Chin
With AirSculpt for chin treatment, you will be able to get rid of your ugly double chin and get the defined jaw you've always dreamed of. Based on Chin CoolSculpting current pricing of $1,400, we can estimate Chin Airsculpt average price at $1,400 – $2,500.The treatment usually lasts for 35 minutes.
The physician might include the amount of fat that he will remove as a factor for pricing. It is logical to say that the more fat a patient has in her chin, the longer it takes for the procedure to finish.
Cost of AirSculpt for Arms
The average CoolSculpting charge is $650 per arm ($1300 for both arms). Based on this estimate, the average cost for AirSculpt arm treatment is $2300.
Usually, the tummy and arms are the biggest complaints from patients, and we have seen lots of women that are in near-perfect shape – actresses, models, etc. – but still complain about their saggy arms.
No matter what they do (yoga, exercise), the arm problem persists. That is normal, as arms are parts of the body that don't easily respond to diets and exercise. So for AirSculpt practitioners, the arms are quite a big thing.
The arm AirSculpt procedure takes about 25 – 40 minutes to finish.
Cost of AirSculpt for Tummy
The average liposuction cost for removing fats in the tummy in 2019 was placed at $5,152, but according to the American Society of Plastic Surgeons, the average cost for all types of liposuction surgery in 2019 was only $3,548. Based on that, we can place the average cost of tummy AirSculpt treatment at $3,500.
Some clinics also consider the weight of the patient. For example, a woman who weighs 80 kg will be charged twice compared to another woman who is less than 60 kg.
Consider also the level of experience and expertise the surgeon has. If he is a practitioner that has several years of experience and has performed hundreds of cases of tummy treatments with high degree of success, expect his charges to be significantly higher than others.
Cost of AirSculpt for Stomach
With this procedure, you can target and eliminate pockets of fat deposited either in the upper region or lower region of your stomach. The lower stomach is particularly susceptible to fat formation, especially among young mothers who have baby fat.
If both upper and lower regions need to be treated, the liposuction average for that is $3,800 – $8,000. This puts AirSculpt upper and lower stomach treatment at around $5000 – $7000.
Stomach AirSculpt can treat people from 18 to 81 years old, so elderly people can get this particular treatment as well. No matter what your age is, the physician will go over what you can and cannot expect from the treatment.
Cost of AirSculpt for Thighs
Pretty much the same with stomach treatments, charges will be around $6,000 depending on the severity of fat deposits in the thigh area. The CoolSculpting cost is significantly lower at $750 per thigh.
The main culprit for fat accumulation in that area is estrogen. The hormone drives the in fat cells in females, causing deposits to establish around the buttocks and thighs.
Certain foods might be recommended (by your doctor) that you should frequently consume to lower your estrogen levels. Whole grains, flaxseeds, cruciferous vegetables are some of those foods.
Cost of AirSculpt for Fat Transfer
In 2016, the average cost of a BBL (Brazilian buttock lift) was pegged at $4,500. For buttock implants, the recorded average in the same year was $4,860.
These averages are only for professional fees. The cost of hospital stay, aftercare and anesthesia were not taken into account in the computation.
Taking these averages as a reference, the average cost for a buttock AirSculpt treatment is around $4,000 – $5,000.
AirSculpt Prices List
Check the table below for a quick price summary:
| | | |
| --- | --- | --- |
| | | |
| | | |
| | | |
| | | |
| | | |
| | | |
| | | |
| | | |
| | | |
| Abdominal Muscle Sculpting | | |
| | | |
Is AirSculpt Cheaper than Liposuction?
The table above and the previous sections have shown that this isn't so.
Since AirSculpt services give less invasive treatments and are generally preferred than liposuction procedures, it is not surprising that AirSculpt services are more expensive.
The very minimal pain that patients experience with AirSculpt treatments also contributes to the high popularity of these services and the differences in prices.
The costs presented above hover around a difference of about $500 -$1,000, which shows that AirSculpt services are in the mid-range compared to liposuction and CoolSculpting services.
Recovery Time
While a traditional liposuction treatment has an extended recovery period, AirSculpt treatments allow patients to be back on their feet 48 hours after undergoing the procedure and depending on the body's response, full recovery can occur within 5 – 10 days.
For people with body reactions that are not so severe, they can be up and about, and resume work within 3 – 5 days.
If lots of fats were removed from you, naturally, you expect a higher degree of swelling to occur and a longer time to heal. Just the same, AirSculpt treatments are still some of the safest treatments available.
Is AirSculpt Permanent?
AirSculpt promises long-lasting results with no scars to leave behind and no stitches required at the end of the treatment. Healing takes only a short amount of time compared to the liposuction method that generally requires around six months for the bruises, wounds, and inflammation to heal.
Like in any types of procedures, practitioners of AirSculpt treatments make sure they don't fail to remind their patients to take lifestyle changes seriously.
Proper diet, exercise, a strong will to avoid vices, such as smoking and excessive drinking, and getting enough sleep are requisites of healthy living.
Is It Covered by Insurance?
AirSculpt treatments are elective treatments, and as such, they are not covered by insurance. Elective treatments or cosmetic surgical procedures do not require immediate attention and are only undertaken for the provider's or the patient's convenience.
However, providers of the service come with schemes for easy payments. If full payment is made within 6 to 12 months, the provider will not charge the any interest.
In addition, the patient can choose any flexible payment period from 24 to 60 months.
Are There Ways to Reduce Cost?
Working with your provider is mainly the way you can reduce your AirSculpt cost. Some of these providers offer promotional discounts to new clients, so ask them about these offerings.
Providers usually work with companies that specialize in patient-associated financing. With this particular option, you can pay for your treatment affordably and with ease.
If you don't know where to start to take advantage of this special financial channel, visit Care Credit or Medical Financing. They focus on special situations, and cosmetic enhancements are some of those that they consider. This is also a good choice for all credit profiles.
Conclusion
AirSculpt treatments are some of the best treatments for body and skin enhancements available in the industry. This type of treatment is quickly replacing more invasive approaches such as liposuction.
When it comes to pricing, prices of AirSculpt treatments are a bit higher, but you can be assured that you will be treated more safely compared to liposuction procedures.
The safety level for Airsculpt is particularly amazing, which is one thing to be considered when taking into account price differences across different types of treatment.
The AirSculpt physician uses a very tiny instrument called cannula and with this, they will ensure that nothing else will be disturbed in the patient's tissues except the fat.
They will take extra care not to disturb the lymphatics, or the blood vessels, or the capillaries. What they want to do is cause minimal damage but achieve optimal result.
As Airsculpt is a minimally-invasive form of treatment, the cost may be a bit higher, but you are more assured of safety. The swelling and bruising will be not that much as with liposuction and the risk of infection is lower.
I really appreciate the short time that Airsculpt procedures take. I can leave the clinic in less than one hour and return back to normal life in as little as 48 hours after the procedure.