At a Glance:
Liposuction is the most popular body contouring method that involves breaking up and suctioning fats from the body.
It can be used to eliminate fats from different parts of the body, such as the arms, stomach, thighs, and even the face.
Liposuction is relatively expensive, with an average cost of $3,518 per treatment and can go as high as $10,000. Liposuction costs vary, depending on the scope of treatment.
Liposuction is an effective fat removal option but also comes with certain side effects, such as pain, swelling, and bruising. Recovery can take a few weeks. However, the full result will not show until after several months.
Cosmetic surgical procedures are on the rise, according to the American Society of Plastic Surgeons (ASPS). In fact, just last year (2018), 18 million people went through cosmetic surgeries in the country, which is 258,558 more than that of 2017.
( VIDEO: INFOGRAPHIC VIDEO AVAILABLE FOR REDISTRIBUTION WITH CREDIT TO THE AMERICAN SOCIETY OF PLASTIC SURGEONS. )
And among the top five procedures in 2018 was liposuction.
But what makes it so popular? Is it a safe and effective fat removal method? How much will it cost you? Read on to learn everything you need to know about liposuction.
What is Liposuction?
( CREDIT: AMERICAN SOCIETY OF PLASTIC SURGEONS )
Also called lipoplasty, liposuction is a fat removal surgical procedure that works by breaking up and suctioning fats from the body. This procedure is normally carried out under general anesthesia. In addition to enhancing appearance, liposuction is also used to treat some medical conditions.
Here is an infographic outlining the liposuction surgery briefly: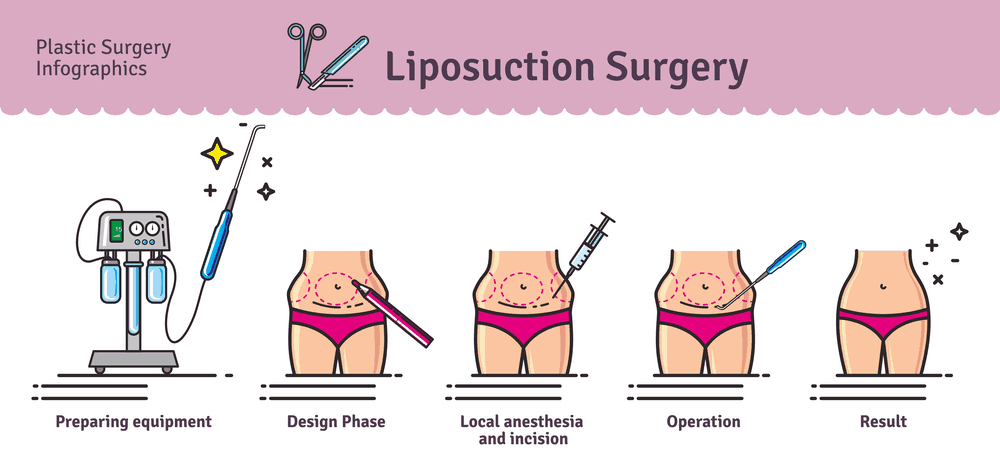 Liposuction Definition
Liposuction refers to the surgical suctioning of unwanted excess fats in different parts of the body. It is a popular procedure for removing fat deposits under the chin, neck, arms, cheeks, abdomen, stomach, thighs, and many other parts of the body.
Liposuction Meaning
The main purpose of the surgery is to help people remove fat particularly in body areas that are less susceptible to diet and exercise. Since it involves direct removal of body fat, it provides almost instant results. More than this, liposuction can help reduce inflammatory cells and blood fat levels in the body, which are beneficial to one's health.
Liposuction also promotes better mobility, improved self-esteem, and a healthier lifestyle.
Full Body Liposuction (Per Area):
Chin Liposuction – This procedure involves the removal of tissue under the chin.
Double Chin Liposuction – Many people, despite having a healthy weight, do suffer from stubborn double-chin. Liposuction is a popular treatment to get rid of the submental fat or the fat deposits under the chin which is usually associated with weight gain.
Neck Liposuction – Fatty deposits can extend from under the chin down to the neck area. Liposuction is an effective contouring technique to achieve a firmer, smoother, and more refined neckline. It is also performed to restore balance in the facial features by creating a more defined jawline.
Arm Liposuction – Fats in the arms are often the hardest thing to get rid of even after strict dieting and strenuous workout. That is why arm liposuction is very popular. This procedure targets the fat deposits under the skin of the upper arm.
Cheek Liposuction – This involves the removal of fats from the cheek to give it a more defined look. It is also called buccal fat pad removal.
Thigh Liposuction – This is one of the most popular liposuction procedures today. It is actually the original area where liposuction was developed for. This cosmetic surgery can cover the outer thighs, the inner thighs, and the area around the knees.
Facial Liposuction – Also called "submental liposuction", facial lipo covers prominent features of the face, such as the cheeks, chin, jawline, and the neck. It is recommended for people who want to achieve a thinner and firmer face.
Abdominal Liposuction – Abdominal liposuction is one of the most common cosmetic procedures in the world. It can effectively remove small deposits of fats around the midsection which are typically a result of weight gain, pregnancy, or severe weight loss.
Stomach Liposuction – This liposuction treatment is used to give the stomach a flatter, tighter, and smaller appearance.
Armpit Liposuction – Liposuction can also be used to get rid of the fats in the underarm, which are either accessory breast tissue, loose skin, or both. Just like the arms, fat deposits in this area is difficult to target with diet and exercise alone.
Love Handles Liposuction – Love handles are usually a result of aging, pregnancy, and excessive weight gain or loss. They can also be due to hormonal changes or genetic predisposition. Liposuction is a popular procedure for eliminating love handles.
Knee Liposuction – Knee liposuction helps improve the appearance of the legs and is often performed together with inner and outer thigh liposuction.
Ankle Liposuction – Liposuction can slim down the ankle area as well as the calf to create a slimmer and more toned appearance of the legs.
Liposuction Breast Reduction – This procedure gives the breasts a lift by reducing their weight and enabling the elastic tissues to retract. While liposuction can be effective in reducing breast size, it does not help eliminate excess skin.
Calf Liposuction – This is performed to reduce the size and improve the appearance of the calf all the way to the ankle.
Liposuction for Men
Plastic surgery for men, particularly liposuction, has become increasingly popular over the years. More men are turning to cosmetic treatments to improve their body image and increase their self-confidence. In 2017, 1.3 million cosmetic procedures were performed in men.
There are many reasons why men may decide to undergo liposuction. Because the procedure can effectively correct any problem areas, men turn to liposuction to reduce loose or hanging skin in the abdomen, loose abdominal muscles or neglected hernias, restore leg contour after an accident, or a medical condition (e.g. polio), etc. Since men tend to retain their skin elasticity longer than women do, liposuction in men is very effective.
How Much Does Liposuction Cost?
Depending on the target area, liposuction costs anywhere from $2000 to $3500, excluding the cost of anesthesia and other fees.
Average Cost of Liposuction
As of 2018, the average cost of liposuction is $3,518.
Full Body Liposuction Cost (Liposuction Prices Per Area):
Neck – Liposuction prices for the neck area range from $1,000 to $4,000.
Stomach – The minimum cost of stomach liposuction is $4000. It can go as high as $8000 for a very large abdomen.
Love Handles – Removing fats from this area can cost between $2500 and $8000.
The Stomach and Love Handle – Since the stomach and love handles are major treatment areas, the costs are double that of the cost of each target region alone which means the price range is anywhere from $5,000 to $16,000.
Chin – The average cost of the chin is $1,400.
Double Chin – Removing double chin through liposuction can cost $950 and $5,000.
Arm – For this area, the treatment cost is between $2,000 and $5,500.
Face – Facial liposuction, which could cover the cheeks, chin, jowls, and neck, costs anywhere from $2,500 to $5,000.
Thigh – For the anterior thighs and knees, the cost is $2,500 to $6,000. For the inner thighs and knees, it's between $3,300 and $6,500.
Belly – For the belly, liposuction can cost around $3,000 to $8,000.
Back – The cost ranges from $2,000 to $4,500.
Flank – For the flank, liposuction is priced at $2,500 to $6,000.
Buttocks – For the buttocks, the cost is anywhere from $2,000 to $5,000.
Cheek – Same with other treatment areas in the face, the cost for cheek liposuction is between $2,500 and $5,000.
Breast – For the breasts, the treatment can cost $3,000 to $8,000.
Large Volume – Liposuction prices are higher for larger body areas. Large-volume liposuction, for instance, costs approximately $10,000.
Laser Liposuction Cost
The average cost for this procedure is $5,450. The price range per treatment area is $2,000 to $4,500.
Tumescent Liposuction Cost (fluid injection)
The price of fluid injection greatly varies, depending on the size and area of the fats to be removed. The price per treatment can range from $2,000 to $8,000.
Ultrasound-assisted Liposuction Cost (UAL)
The cost of ultrasonic liposuction is somewhat similar to traditional liposuction, ranging from $1,500 and $10,000.
Liposuction and Tummy Tuck Costs
Liposuction vs Tummy tuck – which is more expensive?
It depends. An extended tummy tuck, which includes liposuction, falls into the high-end price range which is anywhere from $11,000 to $12,000. A tummy tuck costs $6,154 on average according to 2020 statistics from the American Society of Plastic Surgeons.
Male Liposuction Cost
Liposuction for men costs between $3,000 and $7,000 per target area, depending on the body part. The procedure is typically more expensive than liposuction for women because male fats are more fibrous and more difficult to remove.
Liposuction for Men Belly Cost
For the belly or abdomen, the cost of liposuction for men ranges from $4,500 to $6,500.
Male Chest Liposuction Cost
For the chest area, the cost is between $3,500 and $4,500.
Male Breast Liposuction Cost
The cost of removing fats in the breasts is $3,000 to $5,000 for an average-sized man.
Liposuction Prices List
How Does Liposuction Work?
Liposuction is performed to target fat deposits from different parts of the body using a suction technique. It works by breaking up fats and suctioning them through a device called a cannula.
During the procedure, the patient is put under general anesthesia and or given a sedative to feel calm and relaxed throughout the treatment. A combination of three medications is then injected into the target area which will break up the fat cells. Ultrasound or laser may also be used to aid in this process.
The surgeon will then make a small incision to insert the cannula or the suction tube into the fat pockets to remove the fats.
Here is an infographic that helps you to clearly see how liposuction works: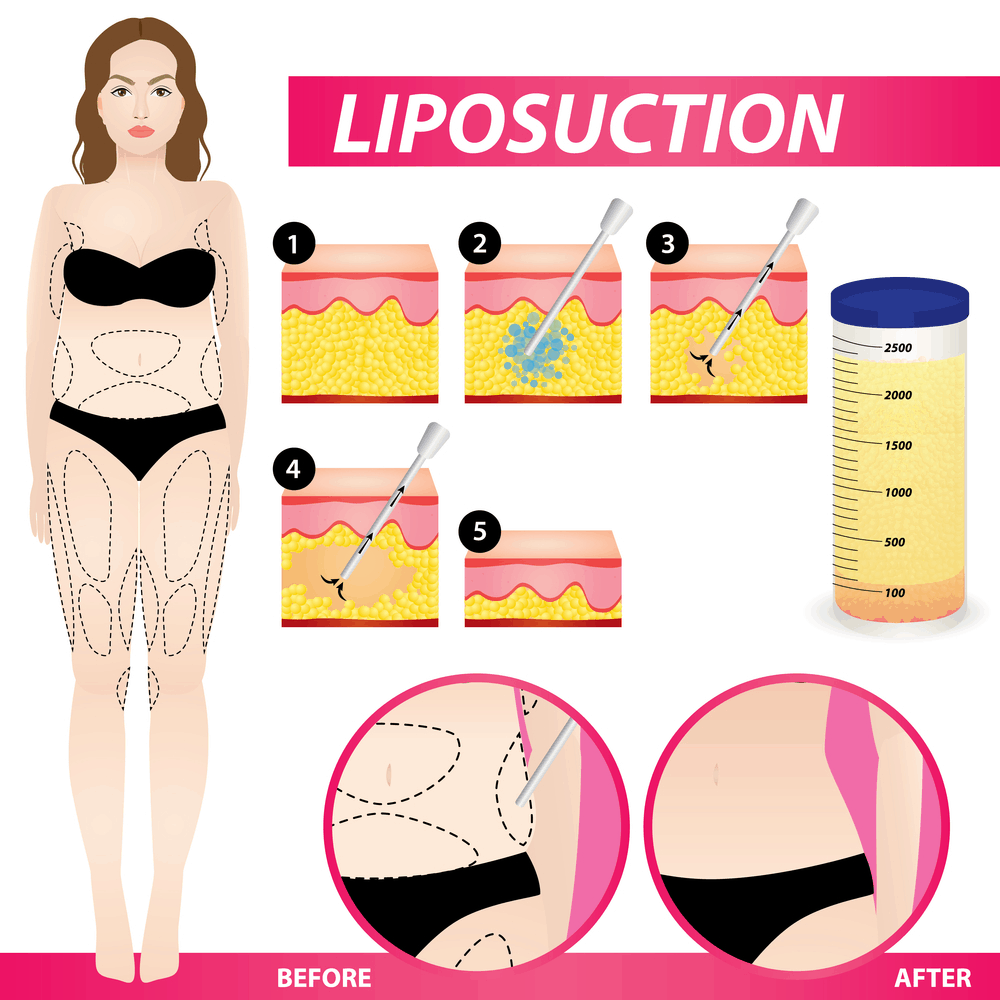 Types of Liposuction Procedure
There are currently four types of liposuction:
Tumescent Liposuction (fluid injection) – Tumescent Liposuction involves injecting a combination of medications that break up the fats before they are removed. The fluid contains anesthesia, epinephrine (a drug that contracts blood vessels), and IV solution that helps speed up the removal of fats.
Super-wet Technique – This procedure is almost the same with fluid injection only that it requires a smaller amount of fluid. The super-wet technique takes less time but the patient has to be put under general anesthesia or sedative prior to the removal of fats.
Ultrasound-assisted Liposuction (UAL) – Unlike the first two types, UAL involves the application of ultrasonic waves to break down fat cells through a metal rod inserted into the skin. The modern type of UAL is the VASER Lipo which provides improved skin contouring and lowers the risk of injuries.
Laser-assisted Liposuction (LAL) – This procedure uses laser technology to turn fat cells into liquid. Afterward, they are either vacuumed out or allowed to drain through small tubes. Since the cannulas used for LAL are smaller than traditional ones, this particular type of liposuction is frequently used for confined areas like the face. A popular example of LAL is Smartlipo.
Who is a Good Candidate for Liposuction?
Anyone who wishes to improve their body image by reducing fats in their body can turn to liposuction. However, for the successful outcome, the ASPS lists down the good candidates for liposuction.
Liposuction Candidate
Adults within 30% of their ideal weight.
Healthy individuals with no medical condition that could interfere with their recovery from liposuction.
Are not smoking.
Have a clear understanding of their body contouring goals.
Laser Liposuction Candidate
Ideal candidates for Laser lipo or Smartlipo are the following:
Those that are not over 25 pounds of their ideal body weight.
Adults who engage in healthy lifestyle habits. A compromised immune system or the presence of illness or chronic conditions can increase one's risk of side effects and complications.
Women who are not pregnant.
Adults who struggle with specific problem areas and have a good reason for undergoing the procedure.
Is Liposuction Worth It?
Liposuction is absolutely worthwhile. In one study rating the satisfaction of people who underwent liposuction, the majority expressed their satisfaction by a score of 9 (10 being the highest).
Pro and Cons of Liposuction
Liposuction has the following benefits:
It provides for the safe removal of fats, giving you your desired appearance and size.
It's easy to way to sculpt the body parts that are dieting and exercise may not be able to address efficiently.
The results are permanent. Once the fats are removed, they won't grow back.
But just like any other medical procedure, it comes with downsides too:
It's expensive.
It comes with potential side effects and complications, such as allergic reactions caused by the medications used, infections from the punctures made by cannulas, fluid imbalance, and skin necrosis, or skin tissue death.
Liposuction Payment Plan
Most cosmetic clinics offer payment plans to make it more affordable for their patients. Liposuction can usually be paid in 6, 12, 18 or 24-month payment plans.
Does Insurance Cover Liposuction?
Like other cosmetic surgical procedures, liposuction is not covered by medical insurances unless it is performed as part of a treatment plan for an illness or health condition.
How to Pay for Liposuction?
Cosmetic surgery clinics generally accept payment through cash or credit card. Some providers even offer plastic surgery loans.
How to Find a Plastic Surgeon Near Me?
You want to choose a plastic surgeon who is certified by the American Board of Cosmetic Surgery. Consider seeking recommendations from friends or relatives who have had work done.
Alternatively, you can make use of an online web directory to find a list of accredited plastic surgery providers in your area. Be sure to read reviews of surgeons to find the one who can help you achieve your desired outcome. The American Board of Cosmetic Surgery has a checklist that you can use when finding a good plastic surgeon.
Liposuction Alternatives
For people who want to remove their excess fats but are not good candidates for liposuction or simply do not prefer this method, the most popular alternatives are:
CoolSculpting – an FDA-cleared procedure that involves freezing fat cells to death. When it comes to CoolSculpting vs liposuction, the latter works better in removing larger deposits of fats.
Tummy Tuck – a surgical procedure used to tighten abdominal muscles and remove excess skin and fats in the mid-section.
Medical Weight Loss Diet – this involves the use of a hormone that controls metabolic function, along with a very low-calorie diet (VLCD).
Kybella – an FDA-approved injectable treatment used to reduce fat under the chin.
Sono Bello Lift – a procedure that tightens the skin and rejuvenates sagging areas in and around the face.
Final Thoughts
Liposuction is an effective fat removal method for both men and women.
The average cost of this procedure is $3,518 which is relatively cheaper than its alternatives. Liposuction can help break down and eliminate fats in various parts of the body, from the face down to the ankle.
However, in order to ensure a successful outcome, you must work with a certified plastic surgeon who has sufficient training and certification. This should lessen the risk and possible complications associated with the procedure and leave you with a smoother, thinner, and more beautiful appearance.
---
FAQs: (Frequently Asked Questions)
Does it Really Work?
In a study conducted by ASAPS (American Society for Aesthetic Plastic Surgery), liposuction is named as one of the most popular cosmetic procedures, with 80% of patients who undergo the procedure are pleased with the results.
How Long to See Results from Liposuction?
Liposuction is one of the fat removal procedures that promise amazing results for the right candidates.
Most patients will see 90% of their desired outcome within 1-3 months after the surgery.
How Long Does Liposuction Last?
It can take up to 6 months for the treated area to settle and heal completely. But the final results can be long-lasting if a healthy weight is maintained.
Can Fat Come Back After Liposuction?
Once the fat is removed, it can't grow back. However, the fat cells that remain can get bigger with weight gain.
How Much Weight Can You Lose with Liposuction?
The maximum amount of fat that can be extracted through liposuction is 5,000 milliliters or 11 pounds. But some experts suggest that determining the patient's body mass index (BMI) is important to determine his or her maximum fat extraction rate.
Is Liposuction Safe? Does Liposuction Hurt?
Liposuction is a generally safe body contouring option but not without certain risks and limitations.
Liposuction Risks
Possible risks associated with liposuction are:
Contour irregularities – the skin appears bumpy or wavy due to the uneven removal of fats.
Scarring – liposuction can cause little scars in the treated area but they are usually not noticeable and improve over time.
Fluid accumulation (seromas) – temporary accumulation of fluid pockets under the skin. This has to be drained using a needle.
Infections – although very rare, the possibility of skin infection can be life-threatening.
Bleeding – major risks can include bleeding and a reaction to anesthesia.
Liposuction Side Effects
Numbness and swelling – these are temporary and should subside over time.
Bruising – This peaks in the first 7-10 days after the surgery, but disappears after 2-4 weeks.
Pain after surgery – this is a very common side effect that can be controlled using prescribed analgesics.
Restricted mobility – depend on the extent of liposuction performed in the patient.
Possible Liposuction Complications
Liposuction can have the following complications:
Anesthesia risks – Liposuction involves the administration of local anesthesia. Compared with procedures where patients are put under general anesthesia, the risks are lower with liposuction.
Infection – Very rarely, skin infection may occur. This is usually treated through surgery, without the risk of scarring.
Damage to deeper structures – Such as the nerves, muscles, and blood vessels.
Poor healing of the wound
Heat injury – It associated with the ultrasound-assisted technique.
Swelling & Pain After Liposuction
There will always be some swelling right after the surgery but it will subside after a few weeks and totally disappear after a few months. Wearing compression garments should help reduce the swelling while holding fresh wounds in place. Taking the anti-inflammatory medication prescribed by your surgeon should also help.
Liposuction Swelling Time
The swelling will subside a week after the surgery and will progressively reduce after a month or two. Minor swelling, however, will continue to linger for several months and in some cases, after a year.
Contour Irregularities
Contour irregularities may take place, depending on the patient and factors like the level, amount, and elasticity of the skin. Younger patients with tight skin and a moderate amount of excessive fats are less likely to experience contour irregularities.
Is Liposuction Painful?
It is painful. That is why before the surgery is performed, the patient will be put under anesthesia. There will be some pain in the succeeding weeks after the surgery.
Liposuction Recovery Time
As an outpatient procedure, recovery from liposuction is relatively quick. Most people can return to work after a few days and to their normal activities after a few weeks. Even so, the side effects of liposuction, particularly the bruising, swelling, and soreness are likely to linger for several weeks.
Liposuction Aftercare
As you are likely to experience some discomfort during the recovery period, make sure to prepare the following items before your surgery:
Compression garment
Comfortable, loose clothing
Pillows to rest on
Bottled water and medications for pain or nausea
Towels to absorb leaking fluids.
How Long to Wear Compression Garment After Liposuction?
After liposuction, most patients are advised to wear compression garment 24/7 (except to shower) for 3 weeks. Then, they will have to wear it for another three weeks during the day, taking it off at night.
There are different types of compression garments, depending on the body areas where liposuction is performed.
Compression garments like Leonisa make recovery quicker and prevent fluid retention while promoting comfort throughout the recovery period.
Liposuction Foam Boards
The use of liposuction foam boards such as the M&D Flattening Faja Ab Board and Contour Lipo Foam is beneficial especially on areas where uniform healing is needed. It helps flattens the skin evenly while providing compression which then reduces swelling, bruising, and absorption of fluids.
---
Sources
TopLiposuctionCost has strict sourcing guidelines and relies on peer-reviewed studies and academic research institutions.
We avoid using tertiary references. You can learn more about how we ensure our content is accurate and current by reading our editorial policy.