At a Glance:
Sono Bello is a leading provider of laser liposuction and body sculpting with 60+ locations in the US.
Customized procedures start at $1395 per area.
Overall, Sono Bello laser liposuction has positive reviews but possible side effects should be considered.
Have you been looking for a way to contour your body and get rid of unwanted fat? Chances are you've heard about Sono Bello. It's the largest cosmetic surgery group practice in the United States.
The Sono Bello franchise stands out through its marketing, but you'll want to do a bit of your own research before choosing one of their treatments.
We've gathered everything you need to know about Sono Bello laser liposuction, including how it works, what Sono Bello costs, what reviews say, and what you need to know about safety, risks, side effects, and benefits.
What Is Sono Bello?
Sono Bello (sometimes spelled as Sonobello) was founded in 2008 and now has 60+ locations across the United States. With more than 125 board-certified plastic surgeons, the company aims to provide advanced micro-laser liposuction procedures all over the country.
But what is micro-laser? How is it different from traditional liposuction? And how does laser lipo work?
How It works
Laser liposuction is considered a minimally invasive cosmetic procedure. Traditional liposuction is a surgical method of removing fat from the body, while laser liposuction incorporates the use of minuscule lasers to melt away fat under the skin.
Most laser liposuction procedures will use a combination of liposuction and laser treatment, as the name should imply. This means a physician will use thin tubes to suck out fat in large areas, as well as lasers to burn away fat in smaller sections. For this reason, the treatment is also known as laser-assisted liposuction.
Types Of Sono Bello Treatments
TriSculpt Body Contouring with Micro-Laser Lipo – Sono Bello is probably most known for its TriSculpt treatment, a body contouring procedure that uses micro-laser liposuction to remove fat. This treatment involves three stages, hence the name. First, the patient is prepped for the treatment and placed under local anesthesia, meaning you will be awake during the procedure. Next, minuscule tubes called cannulas will be used to suck out fat. Finally, the physician will use another cannula to remove fat with laser energy.
TriSculpt E/X for Lower Abdominal Excess Skin Removal – A common complaint after losing a large amount of weight is the sagging skin that stays behind. Sono Bello TriSculpt E/X treatment targets this problem by removing excess skin in the most troublesome area: the lower abdomen. In short, TriSculpt E/X is a form of body sculpting that combines fat and skin removal for a better overall result.
Sono Bello Lift Facial Rejuvenation – Sono Bello Lift is a microlaser treatment that focuses on facial rejuvenation. This minimally invasive procedure helps remove wrinkles and tighten the skin around the brow, eyes, chin, and neck. The treatment can solve many common problems with facial skin, such as expression wrinkles around the eyes and mouth and sagging skin around the face and chin. Though this facial rejuvenation treatment was offered by Sono Bello in the past, it has recently been replaced by other advanced treatments such as VenusFreeze and Venus Legacy.
VenusFreeze and VenusLegacy Advanced Cellulite Reduction Treatment – Sono Bello's latest offerings are Venus treatments from Venus Concept. VenusFreeze and VenusLegacy are non-invasive treatments for cellulite and wrinkle reduction, as well as tightening of the skin on the face and body. The treatments use radiofrequency technology which, according to Venus Concept, is safe for all skin types. Unlike laser lipo, these procedures are done without anesthetics and don't require any recovery time.
How Much Does Sonobello Cost?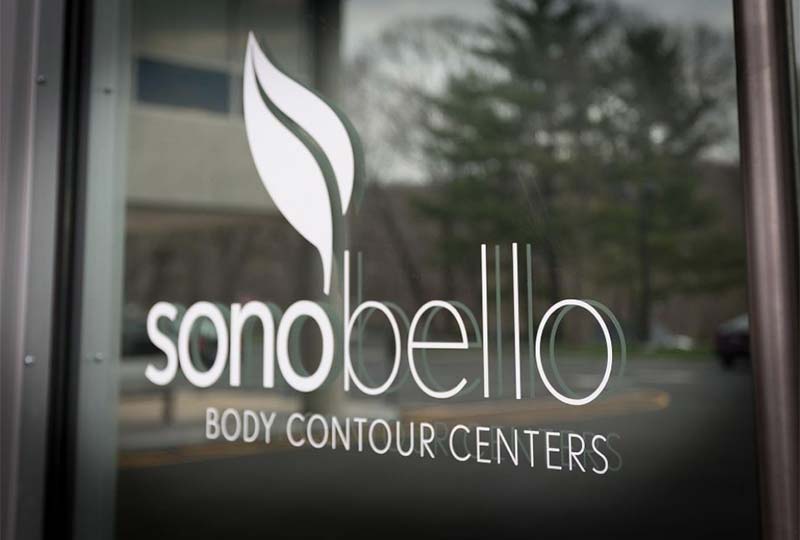 Sono Bello TriSculpt starts at $1,395 per area. Other procedures, such as VenusFreeze, Venus Legacy, and TriSculpt E/X, as well as custom treatments, start at $2,995 per area. For more information on facial rejuvenation treatments, check out Sono Bello Lift Cost.
The company also offers specials and a few different payment plans. There are options to qualify for no interest if your treatment is paid in full within 6 or 12 months. Otherwise, payments can be made over a period of 24, 36, 48, or 60 months at an interest rate of 16.9%.
Sono Bello Prices for Customized Procedures

Customized procedures start at $2,995. Because Sono Bello procedures are tailored to individual body types, it is recommended to contact the clinic closest to you for a more accurate price estimate. You can also call the trunkline, 1-800-995-1136, or visit SonoBello.com to schedule a free consultation.
Sono Bello Price List
Here is a price list of treatments and an estimate of Sono Bello costs for various areas. Sono Bello encourages customers to come in for a free consultation in order to get a more accurate quotation. Pricing is customized to each client after an assessment of body type, treatment areas, and the amount of fat to be removed.
Why Choose Sono Bello?
When searching for a cosmetic surgery clinic, you'll have a choice between private and group practices. Why would you choose a large group practice such as Sono Bello over a private one? Here are a few reasons.
The Sono Bello Advantages
Experience
Specialization
Customization
Sono Bello has grown considerably in the past decade and become an industry leader by offering reasonably affordable and technologically advanced treatments. They are known to specialize in total body transformation and do so with a range of customized treatments.
According to Sono Bello's website, their advantage is three-pronged, with an emphasis on experience, specialization, and customization. Besides boasting a team of physicians with both experience and specialization, the key appears to be in customization. Claiming to have helped thousands of men and women by performing over 100,000 procedures, Sono Bello does not abide by a "one-size-fits-all" mentality. Instead, they aim to tailor their services to each unique individual.
Of course, Sono Bello also specializes in advertising itself. But what other reasons could there be to choose their services?
Other Advantages:
Sono Bello treatments are widely used and reviewed

Options for more affordable pricing
Americans all over the country have been using Sono Bello and many of them have left reviews on various online platforms. Because you can find more information about Sono Bello, you may be able to make a more informed decision on whether or not to try the treatments.
Additionally, the Sono Bello group can offer more affordable pricing options than smaller, private practices. As an example, laser liposuction is typically shown to cost $2,500 to $5,000 per treatment area. By contrast, Sono Bello micro-laser lipo starts at $1,395 per area.
Sono Bello Services
Fat removal with TriSculpt micro-laser lipo treatments
Skin removal when desirable for optimal results with TriSculpt E/X
Cellulite removal and anti-aging solutions with VenusLegacy and VenusFreeze.
Besides offering a range of services to address fat, cellulite, and wrinkle reduction, as well as skin tightening and removal when advantageous, Sono Bello offers postoperative services and guidance in health care and lifestyle changes.
After undergoing a Sono Bello treatment, you'll come in for a number of post-op checkups. During these consultations, your doctor will give suggestions to maintain a healthy weight and hold onto your results after laser liposuction.
Here is Sono Bello guide to recovery after liposuction.
Final Thoughts on Sono Bello
In summary, Sono Bello laser liposuction offers a solution to unwanted or stubborn fat. Across the United States, men and women have tried and tested treatments at Sono Bello clinics. A majority of them have walked away satisfied and shared their experience online.
When it comes to Sono Bello cost, starting prices are lower per area than the industry average. Sono Bello also offers a number of financing options and occasional promos. A key feature of Sono Bello treatments is that they are highly customizable and tailored to each individual patient.
Ultimately, if you are considering laser liposuction, you must weigh up the pros and cons for yourself and take into consideration possible side effects and risks. Don't forget that body sculpting must be combined with a healthy lifestyle in order to maintain results.
---
FAQs
Safety & Risk – How Safe Is Laser Liposuction?
Laser lipo is a commonly used procedure that is widely considered to be safe and has produced favorable results in many patients. However, there are exceptions where the treatment has gone wrong.
It is important to be aware of potential risks, such as scarring, infection, numbness, discoloration, and discomfort. Always make sure your doctor is board-certified and that the equipment used it up to par.
Should I Be Concerned About The Side Effects Of Sono Bello Laser Lipo?
Let's take a closer look at the pros and cons of undergoing Sono Bello laser liposuction.
As with any medical treatment, possible side effects should be taken into consideration. When it comes to laser liposuction, common side effects include sensitivity or tenderness and bruising in the treated area. In some cases, patients experience irritation of the skin, scarring, and infection. Be sure to consult your practitioner on how to avoid such cases.
Possible Side Effects:
Sensitivity or tenderness
Bruising in the treated area
Irritation of the skin
Scarring
Infection
Additionally, it will take some time before you are able to engage in strenuous physical activity.
What Can I Expect After Sono Bello Laser Lipo?
Despite potential side effects, Sono Bello touts benefits that often make it worth it for patients to undergo the treatment.
Once swelling dies down, you will see immediate results. Many reviewers of laser lipo are thrilled to have the body they always wanted, which gives them a big boost in confidence.
Benefits Of Laser Liposuction:
See immediate results
Get the body you've always wanted
Boost self-confidence
Sono Bello Reviews
Sono Bello has 200+ reviews and an above-average rating on HighYa, an online community for consumer product research. Many verified reviewers were happy with the service and results, though some left very negative reviews.
Highlights from negative reviews include long wait times and patients being unhappy with their total weight loss. However, many reviewers mention the professional staff and most are satisfied with the results of their treatment.
On Facebook, Sono Bello has 91,000+ followers as of 2020. Though there are no reviews on the company's Facebook page, you can find many first-hand accounts of customer experiences at Sono Bello clinics in specific locations on Yelp. For example, the Sono Bello clinic in Bellevue, Washington has 73 reviews and a 4-star rating.
How Can I Find Sono Bello Near Me?
If you're looking for the nearest Sono Bello clinic, you shouldn't have to go far. Sono Bello now has 60+ branches in 27 states. You can schedule a free consultation at your nearest clinic by visiting their website or calling 1-800-995-1136.