At a Glance:
Bellafill, formerly Artefill, is a product used to correct wrinkles, saggy skin, eye bags, and even acne scars from the patient's skin. All of these services can be done by injection, no surgery required. With this, the procedure is safer and cheaper than traditional procedures.
Bellafill usually costs $1,500 per injection. But the actual cost is not easy to estimate without meeting the patient personally. Most of the time, it takes more than one shot before the patient can achieve the desired effect.
According to reviews, 95% of patients that took this procedure say its worth it. The effect can last for at least five years when used to to fill in smile lines.
What Is Bellafill?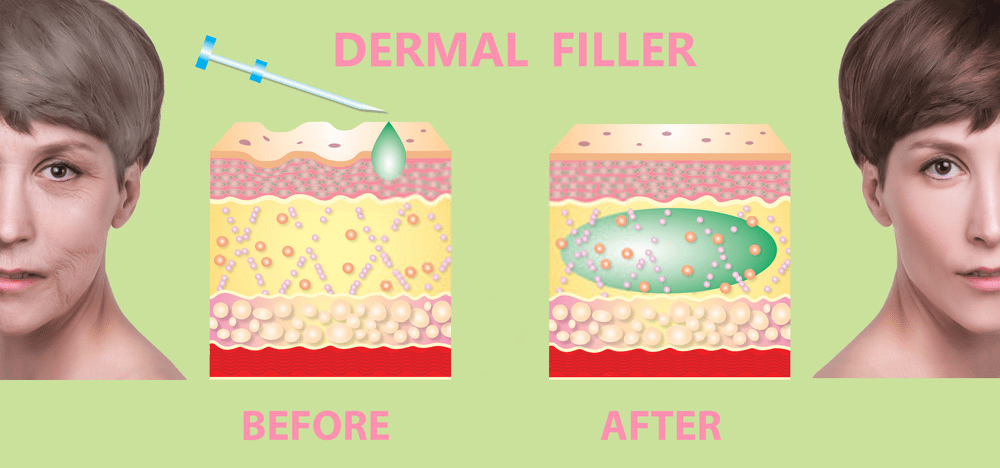 Bellafill is one of the most popular dermal fillers used today. It is known for its efficacy, convenience, and prioritizing the patient's safety. What is Bellafill? How much does it cost per syringe? And how long will the effect last per injection? Continue reading this article to find out more.
Previously known as Artefill, Bellafill is a product administered to treat cases such as facial lipoatrophy, facial wrinkles, lip augmentation, and more. It is used as a dermal filler for both male and female patients who want to reduce the signs of aging and acne scars on the skin. The treatment is done via injecting collagen to smoothen wrinkles and acne scars. Bellafill is an example of a dermal filler, which means that no further reinjection is required for a long time. It uses collagen called bovine that is sourced from natural sources and not chemicals. By providing support to the skin structure, the patient is given a more youthful skin. The filler is approved by FDA way back in 2006 (known back then as Artefill) and is primarily used for correction of what is called nasolabial folds and acne scars. Since then, Bellafill has been featured on sites like Allure as the "Anti-aging" game-changer.
How Much Does Bellafill Cost?
The cost of Bellafill depends on the number of syringes used per session. One syringe usually costs $1,500, while a half one will net the patient $750. Each patient has different needs, and therefore, will have different quotation amount. Factors such as the depth of the tear trough, the depth of the smile lines, and more factors.
In reality, professionals would need to see the patient's skin in order to give an accurate quote for the filler cost. Patients have different circumstances, and therefore, different Bellafill filler dosages to be administered. Contact a Bellafill partner near now and get a consultation and quotation based on your skincare needs. The physician can also decide whether he or she will charge via area or via syringe count.
Cost of Bellafill for Acne Scar
According to Steven Cohen in his interview with Women's Health, Bellafill is not for everyone who has acne scars. People who have rolling scars have the best chances of getting a great recovery. The collagen injected will "lift" the scar that has been developed in the skin after acne damages. Acne scarring treatments are usually more expensive than usual Bellafill procedures and cost $1.800 per syringe on average.
Cost of Bellafill for Smile Lines Removal
Muscles in the skin affect all the wrinkles that will appear in Nasolabial Folds. The Wilmington Dermatology Center uses Bellafill to administer both partial and full facial smile lines correction. For a partial correction, patients are expected to pay $2,800 while $4,250 is for full facial correction.
Bellafill Cost Per Syringe for Per Area
Under Eyes – 1 syringe, split both sides: $1,500
Nose Job– half syringe: $1,000
Lips -1 syringe, half syringe per each lip: $1,500
Tear Trough – half syringe per each area: $1,500
Cheeks -2 syringes, one per each cheek: $3,000 or more
Chin – 2 syringes, one per each side: $3,000 or more
Bellafill Prices List
Please check the price list of Bellafill for more info.
Bellafill Approximate Cost

Under Eyes (half for both eyes)

Lips (2 syringes for both lips)

Tear Trough (half for both eyes if the hollow is not deep enough)

Cheeks (2 syringes, one syringe for each side)

Chin (2 syringes, one for each side)

Note: Most practitioners offer Bellafill for $1,500 per syringe. The syringe count is based on the standard amount used by most practitioners.
Common Treatment / Areas:
One of the reasons why Bellafill is a very popular option is because of its wide scope of targeted areas. It can fix almost all the popular places where wrinkles appear. As the first-ever FDA-approved scar reduction, you can also say bye-bye to unwanted acne scars that are usually hidden by thick makeups.
Bellafill for Acne Scars
Acne scars do appear because of persistent inflammatory acne that damages the layer of the skin. There are different kinds of acne scars, including ice pick scars, boxcar scars, and rolling scars. By using Bellafill, rolling scar problems are now easier to eliminate to get more youthful skin.
Bellafill Under Eyes
Another problem that Bellafill could fix is the appearance of "bags" under each eye. Eye bags occurs when the weakened skin starts sagging and forms a pouch. By strengthening the skin structure, patients can get rid of their eye bags in no time.
Bellafill for Tear Trough
The tear trough is another skin problem that gives the appearance of a "sunken" area near the lower portion of the eyes. Tear troughs can appear together with eye bags, and can also cause dark circles under the eye. But with Bellafill, both of these problems are can be remedied completely.
Bellafill for Cheeks
Are you worried about your appearance because of sagging jowls or sunken temples? Belalfill filler is used to contour the cheek and chin part of the face.
Bellafill for Smile Lines Removal
Smile lines removal can make a person appear older than his or her real age. To smoothen these problematic areas, a lot of practitioners opt for dermal fillers like Bellafill for easier and safer procedures.
Bellafill for Nose
If you're interested in reshaping your nose, Bellafill is also used in liquid rhinoplasties or nose jobs. You can straighten the nose profile, raise the tip of your nose, and more.
Bellafill for Lips
Bellafill can also be used to plump the lips for a more youthful appearance. In just one painless treatment, you can enjoy plump lips for years without worrying about reinjection.
How Does Bellafill Work?
What happens during the treatment is that bovine collagen is injected into the skin using a syringe with an ultrafine needle. As it enters the skin, it fills up spaces which were "hollowed" due to muscle and skin weakening as a result of aging or other external condition. By adding the support, the surface of the skin affected is "corrected". After the injection, the area affected will appear younger and smoother. But before the physicians do the Bellafill procedure, they make sure that each patient will be tested for medical conditions. These include bovine allergy testing, which is done by injecting a small amount to the patient's forearm. Tests are usually performed four weeks before the scheduled operation. As per Drugs, during the procedure, practitioners use lidocaine and numbing cream to make the patient comfortable. A procedure usually takes 15 to 60 minutes. Multiple areas can be treated in one session.
Bellafill Results: What To Expect?
How Long Does Bellafill Last?
Yes, Bellafill is the only long-term filler that's FDA approved to treat distensible acne scars for up to one year. And use Bellafill once to fill in smile lines and it'll last up to 5 years according to the Bellafill official. However, the results may vary depending on your skin health, overall health, age, and lifestyle.
Bovine collagen is a natural material stays in the body, creating longevity for the result of the session. On the other hand, the PMMA microspheres, which are another component of the product, will stimulate collagen production. Both the synthetic and natural material helps each other retain longevity that can last up to at least five years.
Is Bellafill Permanent?
Take note that to remove the collagen which was injected by this procedure, the patient must undergo surgical removal. Because of this, Bellafill is considered as a permanent derma filler. Although the effect can last for five years in minimal, a lot of users have been experiencing success even after eight years from the first procedure. This is a better alternative compared to other dermal fillers that can only last for months.
Possible Problems of Bellafill: Complications or Side Effects?
Bellafill is a safe and tested dermal filler approved by the US Food and Drug Administration. In fact, the treatment has been approved two times. First in 2006 for treating nasolabial folds and second in 2014 when they released Bellafill for acne scars. Most clinics offer this service and are administered by trained Bellafill doctors.
But like other medical procedures, there are times where individuals react differently. Bellafill complications or side effects that will likely appear in the affected area are:
Swelling – There are patients who experience swelling in the injected area which can be resolved in a few days.
Skin redness or Discoloration – Just like swelling, the skin can react to Bellafill via redness or discoloration. But this reaction should be temporary and should be gone for a couple of days to a week.
Lumps – Lumps is also called granulomas and is considered as a less common side effect of Bellafill.
Rashes And Itchiness – Both rashes and itchiness are expected to appear 48 hours after the injection.
Infection – Infection is always possible on any injection, including dermal fillers.
An allergic reaction is also possible if the patient is allergic to bovine collagen. However, this is unlikely as allergy testing is done even before the actual procedure. Unless the allergic reaction was developed after the allergy testing phase. The rule of thumb when it comes to this matter is: if you feel unwell after the procedure, call your doctor immediately.
The Benefits of Bellafill:
Safe And Easy
Bellafill is one of the handful dermal fillers are approved by the FDA. Its fast, easy, and straightforward. Patients don't have to rely on surgeries to change their appearances. It is reported that 90% of patients who underwent Bellafill had successful treatments and satisfied.
Long-lasting Results
Although non-surgical cosmetic changes are traditionally reinjected every few months, Bellafill managed to find the formula that will give a long-lasting result. Most procedures results can run up to five years.
Immediate Result
Bellafill's result can know immediately. The patient will know if the session was a success even just after leaving the clinic.
Bellafill Reviews:
Dermal Fillers such as Bellafill are becoming more and more accessible to the masses. In fact, celebrities such as Sharon Osbourne, Vanessa Williams, and Simon Cowell use derma fillers. Being one of the most popular options, Bellafill takes the world by storm with its permanent solution. Bellafill Reviews shows how the procedure is very well-known all around the country.
According to the review site Real Self, 95% of participating patients love the product. Some reviewers point out that the longer effect of Bellafill is cost-effective and a time-saver. It won't also require a patient to get maintenance each year to maintain the collagen result. Real Patient Ratings also gave the product a 92.6% rate for the product's promotion of natural collagen. Reviews from Drugs.com is also full of praises on how the Bellafill is effective in improving the appearance of the lips and reducing acne scars.
How to Find a Bellafill Provider Near me?
Bellafill Doctors
Bellafill practitioners are great and know what they're doing. In addition, the patients love the natural look which can be achieved by using Bellafill. Do note that for a perfect result, always make sure that you're dealing with a trained and licensed practitioner.
How to find a provider?
A simple Google search of "Bellafill Near Me" will give you a lot of results. However, this method is not recommended if you want to find clinics that are officially authorized to be a Bellafill provider. Bellafill has its Find A Provider site that lets you input a city, state, or postal code and will give a list of authorized Bellafill providers in the area.
For more information about authorized Bellafill providers, you can contact the official Bellafill site by going to their contact page. In addition, people can contact them via telephone numbers 844-235-5234 (toll-free number for the US and Canada) and 858-550-9999 for California.
Final Thoughts on Bellafill
In reality, there's a lot of options to choose from when you want to have that youthful glowing skin. But the majority of the products offered in the market need to be reinjected after a certain period of time. If you want a more hassle-free glow that can last for years, Bellafill is your best option. Take note: only get a licensed and experienced doctor for your session.