At a Glance:
Kybella is an FDA-approved prescription medicine intended to help people get rid of submental fat known as a double chin. It can only be administered by trained healthcare providers.
It is backed by clinical studies as a safe and effective method for removing the double chin.
Each treatment costs anywhere from $1,200 to $1,800. For best results, one has to undergo several treatments.
Kybella is a non-surgical fat removal option with minimal side effects. Finding a qualified Kybella specialist helps lessen the potential complications associated with the treatment.
Nearly 70 percent of Americans dread having a double chin, according to the American Society for Dermatologic Surgery (ASDS). If you're one of them, you may have considered undergoing plastic surgery to get rid of double chin. But if you dread being under the knife more than having a double chin, don't worry. You have another option – Kybella treatment. On this guide, you will learn everything about this popular treatment – how it works, how much it costs, what the risks are, and whether you are a good fit for the treatment.
Introduction of Kybella
What Is Kybella?
Kybella is a prescription medicine intended to help people get rid of submental fat known as a double chin. It is an FDA-approved injectable treatment containing deoxycholic acid which is used in emulsifying fats. Kybella is considered a safe and effective treatment for double chin. Backed by 20 clinical studies, Kybella is regarded as a great alternative for people who slim down their double chin without a scalpel.
How Does It Work?
The magic behind Kybella lies in its main component – deoxycholic acid – a bile acid that is naturally produced by the human body that helps in the absorption of fats. Think of it as liposuction wrapped in a syringe. Kybella contains synthetic deoxycholic acid. Once injected, it gradually destroys all the fat cells beneath the chin area, leading to a more toned chin. It may take a few weeks for the body to metabolize the dead fat cells and eliminating them.
Kybella Treatment
The treatment can only be administered by a trained healthcare specialist. It may take more than one treatment to achieve great results. You can receive up to six Kybella treatments, with one-month spacing in between each session.
Kybella Injections
The procedure usually takes 20 to 50 injections under the chin. Injections are painful and your healthcare provider may apply a topical cream along with some ice packs to ease the discomfort. The exact number of Kybella injections will depend on the number of fat cells under your chin and your desired profile.
Customized Treatment
Kybella is completely customizable for patients. You should discuss your desired results with your doctor so he or she can give you the most effective treatment plan.
How Much Does Kybella Cost?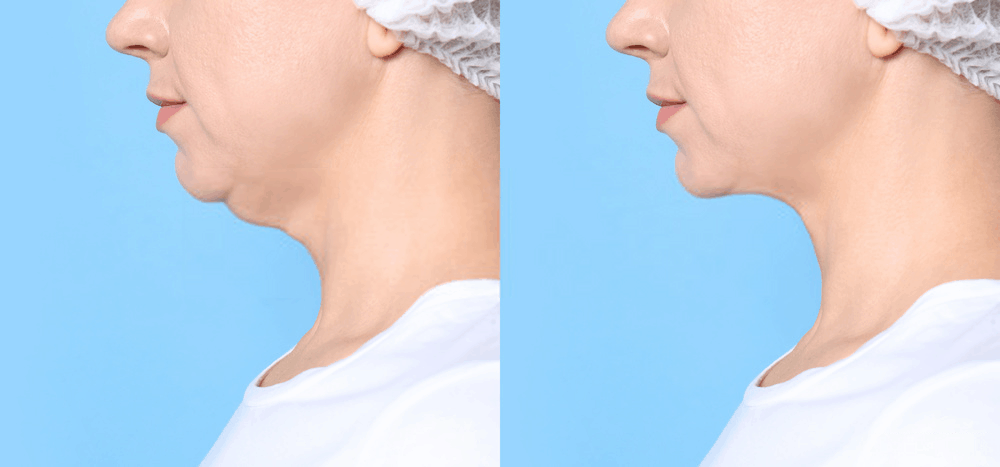 On average, Kybella treatment costs anywhere from $1,200 to $1,800. It may seem like this treatment is less expensive than a surgical procedure like liposuction but in reality, it's not. Compared to CoolSculpting cost, Kybella has a higher price tag.
Kybella Prices
In general, three treatments are required to get really good results for Kybella. This could cost you $5,400 for the entire procedure. The total cost of your Kybella treatment is affected by a few things, such as:
Number of treatments needed to achieve the results you want
The professional fee of your healthcare provider
Where you choose to have it (your location)
Take note that cosmetic procedures like Kybella are not covered by your health insurance.
Kybella Injections Cost
The estimated cost of Kybella is $650 for every 50 injections. Depending on your case, you may need less than 50 injections, which can bring the cost down.
Kybella Cost Per Vial
This FDA-approved injectable is generally available in a pack of four vials containing 2 mL each, costing $1,200 or $300 per vial.
Kybella Treatment Cost Per Area
Aside from the chin, Kybella can be used to remove fat cells from other areas of the body and the price largely depend on the treatment coverage.
Kybella Prices List (Estimates)
Since the drug is administered by your healthcare provider, it could mean that:
Kybella may be expensive.
You cannot fill this prescription from a pharmacy.
It is not usually covered by your insurance plan.
While the actual cost of Kybella varies between doctors, these price estimates should help you determine how much you have to prepare for the treatment.
Kybella Coupon / Discount
Because the treatment can be expensive for most people, some clinics offer discounts. You can also obtain coupons from Kybella's official website.
Is Kybella Worth It? – Why Choose Kybella?
There's no denying that Kybella is not cheap. In fact, in most cases, it's actually more expensive than the traditional fat removal methods like Vaser Lipo, Sono Bello Lift, Smart Lipo, and Athenix Body Sculpting.
Apparently, despite the high price tag, many experts believe that it is worth the price for the following reasons:
Kybella is a no-downtime alternative to liposuction.
It's a nonsurgical alternative that carries fewer side effects.
It's backed by research.
It's approved by the Food & Drug Administration
Nonetheless, research suggests that Kybella as a body contouring option may be more economically beneficial for people with mild to moderate fats under their chin or those who require 2-3 treatments only. For body areas that have large deposits of fats, other methods might be more budget-friendly.
Advantages & Services
Kybella is preferred by many because of the following benefits:
It is non-surgical.
There is no recovery period. The entire procedure lasts for only 20 minutes.
The drug is approved by the FDA, which means it is generally safe and effective.
Visible results after 3-4 treatments.
The results are long-lasting. Kybella dissolves fats at a cellular level. Once destroyed, these cells will not regenerate.
Kybella Doctor
Only a trained specialist can administer Kybella injections. Cosmetic doctors undergo training and certification before they can provide the treatment.
Younger Appearance Guaranteed
Aside from making you look heavier, having a double chin can make your face look fat. Kybella treatment can make you look younger and slimmer by removing the fats under your chin.
In one study, 82.4% of people who received Kybella treatments reported significant satisfaction in their appearance.
Does Kybella Really Work?
According to the American Society of Plastic Surgeons (ASPS), of the 17.5 million cosmetic procedures in the United States in 2017, 62,587 are Kybella treatments. This is an overwhelming figure which suggests that Kybella is a great non-invasive alternative to fat reduction. Additionally, there are clinical trials that favor Kybella treatment as a fat removal option. In one study published in the International Open Access Journal of the American Society of Plastic Surgeons, Kybella was regarded as a safe and effective injectable drug for eliminating a double chin.
How Long Does Kybella Take to Work?
When it comes to the treatment period, Kybella does a far better job than Botox. To get the fast-absorbing acid working against the fat cells under your chin, you only need to undergo two to six treatments (with one-month spacing in between each treatment). One session lasts for 20 minutes.
How Long Does Kybella Last?
The results of Kybella may not be noticeable until after several weeks, but they definitely last for years. Therefore, no touch-ups are necessary to achieve a prettier chin.
Does Kybella Tighten Skin?
One common question that many people have about Kybella treatment is whether or not it helps tighten skin, particularly in the neck. Unfortunately, it doesn't. The treatment targets the fats under the chin and not the skin itself. However, some inflammation of skin tissues in the neck area happens as the fat cells are dissolved, resulting in s certain degree of skin tightening. There is about 10% skin tightening after 2 to 4 Kybella treatments.
Kybella Results After Treatment(s):
The results of Kybella greatly depend upon the number of treatments you receive.
After One Treatment
A single treatment is not usually enough to get the best results from Kybella. While you will notice a reduction in your double chin, it may not be completely removed.
After 2 Treatments
You can (and will most likely be advised to) get another Kybella treatment after a month. Expect a significant reduction in the fats under your chin. However, based on studies, optimal results are seen after three or four treatments.
After 3rd Treatment
Highly noticeable results can be observed after the third treatment. In some people, a fourth Kybella treatment will be required to completely get rid of their double chin.
Kybella Before and After Pictures
What are the expected results after one or more Kybella treatments? Depending on factors like age, body weight, and the number of fats in the chin area, patients need to undergo several treatments to achieve their goals.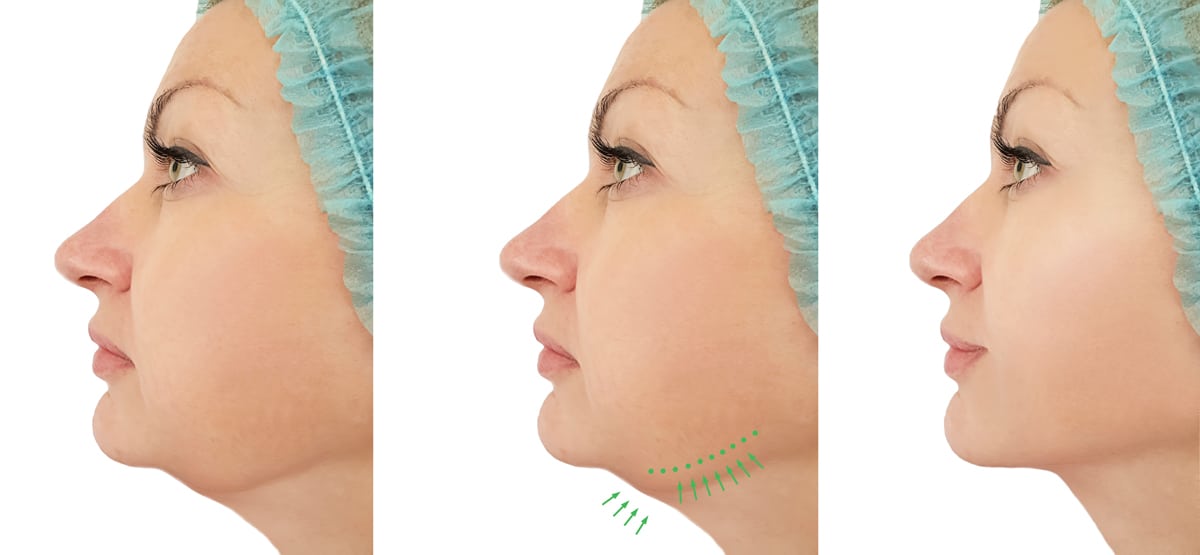 Kybella Double Chin Before and After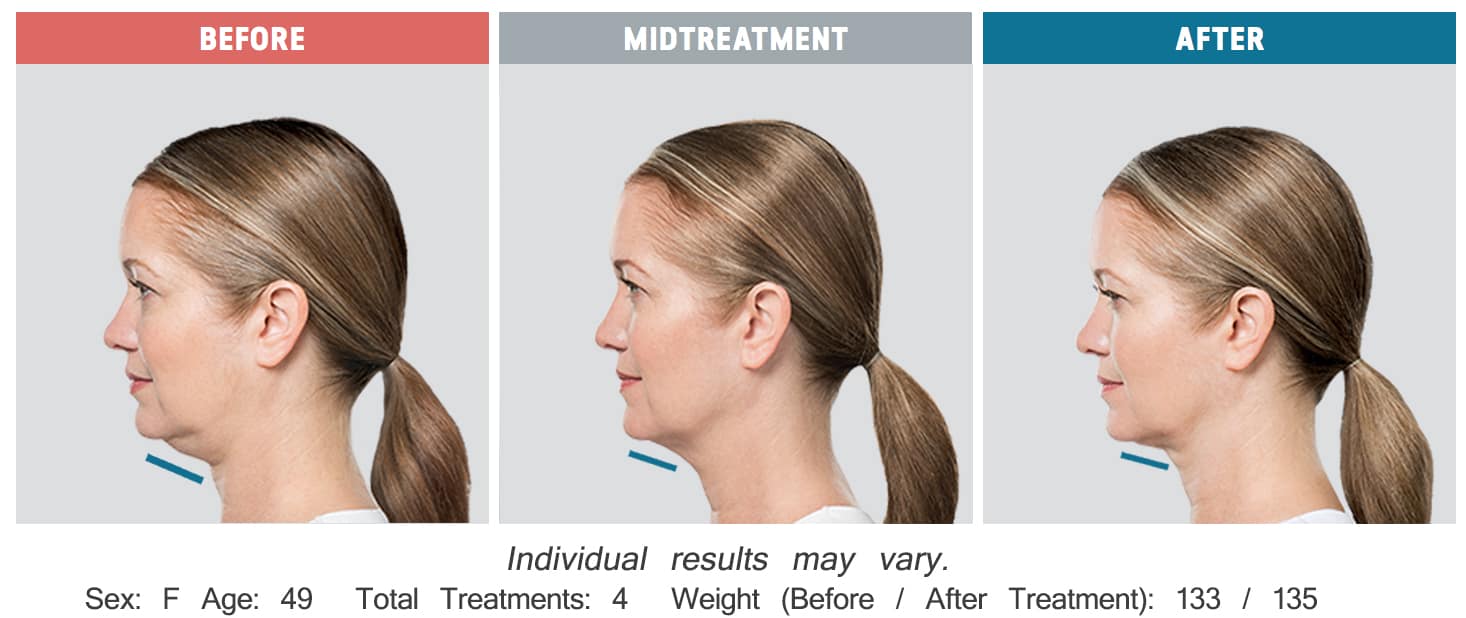 Kybella Injections Before & After
Is Kybella Safe?
Kybella is proven safe in many clinical trials. However, it must be noted that the drug has an FDA approval for the treatment of submental fat and not for other parts of the body.
To ensure great results and safety, Kybella must be recommended to the right patient, injected into the right area using the proper technique.
Does Kybella Procedure Hurt?
Many people who received Kybella injections say that the treatment hurts. 20-50 small injections are performed in one session, which can cause discomfort. Fortunately, topical cream or ice pack is applied to the area to ease the discomfort.
Possible Risks of Kybella
Though Kybella is a non-surgical treatment, it carries some risks too. Apart from pain, some patients report swelling, bruising, redness, and numbness in the treatment area.
Kybella Bruising – Around 70% of people receiving Kybella treatments will experience bruising. This happens when blood is accumulated outside the skin tissues. If you have a medical condition or taking medications that increase your risk of bruising, inform your Kybella doctor right away. The bruising might last for a week.
Kybella Consent Forms – As the use of aesthetic injections carries risks and side effects, patients are asked to sign consent forms prior to the treatment. The doctor should be able to explain to you both the benefits and disadvantages of Kybella.
Possible Side Effects
Possible side effects of Kybella include:
Facial muscle weakness – Injections can cause nerve damage in the jaw area, resulting in an uneven smile.
Trouble swallowing – Although unlikely, Kybella treatment can result in problems with swallowing.
Nerve injury – Receiving Kybella in the area that was previously injured or surgically damaged increases the risk of nerve damage.
Bleeding – People with bleeding disorders, abnormal anatomical features, and other related disorders are at risk.
Irritation – Injections can cause irritation on the skin. In the worst cases, it can cause blisters.
Superficial skin erosions – Also called skin ulcerations, these are open wounds that develop on the skin due to injury or poor blood circulation.
The FDA finds no long-term side effects of Kybella treatments for double chin.
Kybella Swelling & Pain: What You Must Know
Swelling is very common during Kybella treatments, along with tingling, itching, and skin tightness. However, these side effects usually go away even without treatment.
How Long Does Kybella Swelling Last?
Swelling peaks within 20 to 28 hours after the treatment. You may experience swelling for a longer period, although it is very rare.
How to Reduce Swelling after Kybella
Some suggestions to reduce swelling after the treatment are:
Apply an ice pack on the swollen area.
When sleeping, elevate the swollen area a little higher than the rest of the body.
Wear chinstrap if the doctor advises.
Reduce intake of salt for a few days after the treatment.
Kybella Pain
Some people experience little pain or discomfort in the treatment area. During the procedure, a numbing cream is applied to the treatment area or in some cases, a local anesthetic. You may feel sore afterward. In that case, you may take a pain reliever (such as Ibuprofen). Check with your healthcare provider to know the best medication to ease Kybella's pain.
Kybella Complications
Possible complications following a Kybella treatment are:
Infection (especially when there is a pre-existing infection in the treatment area).
Allergic reaction. Although very rare, this requires immediate medical attention.
Nerve "stunning" which affects the marginal mandibular nerve. This happens when the doctor isn't careful about where he or she injects.
Kybella Recovery Time
Recovery for Kybella is around 2-3 days. After three days, the swelling is barely noticeable. However, the results may not be visible until after a month.
Kybella Reviews
Over 1,600 people have been treated with Kybella during clinical studies and 79% of them reported satisfaction.
Kybella Treatment Reviews
Many people who used Kybella claim that the treatment made their faces look slimmer. It is regarded as one of the best options for removing a double chin. Nonetheless, Kybella treatments are not as effective as cosmetic surgery in removing large deposits of fats in other parts of the body.
Kybella Injection Reviews
Many people claim that Kybella injections are a little painful. Since plenty of injections are administered at the same time, there is some discomfort, along with a few days of swelling.
Unfortunately, just like other cosmetic treatments, Kybella is not covered by most health insurance plans. However, some clinics offer financing options to make the treatment affordable for patients.
How to Find a Kybella Clinic Near Me
Kybella is available worldwide, through accredited clinics or healthcare providers.
Not all cosmetic clinics offer Kybella. Only doctors who have gone through intensive Kybella training are allowed to administer the treatment. The official Kybella website lets you find Kybella specialists in your area.
Final Thoughts
Kybella is a safe and effective method for removing fats under the chin. This 'wonder drug' works by killing fat cells, resulting in a slimmer appearance of the chin in a few weeks.
However, there are risks and side effects associated with this treatment. Finding an experienced Kybella specialist should lower the chance of potential complications. It is also important to follow your doctor's advice to speed up your recovery time and healing.
With regard to the cost, Kybella is somehow expensive as you may need to undergo 3-6 treatments to achieve the results you want. Nonetheless, because it is a safer option and promises long-lasting results, many people who received Kybella treatment feel that it is actually worth the price.
---
Sources
TopLiposuctionCost has strict sourcing guidelines and relies on peer-reviewed studies and academic research institutions.
We avoid using tertiary references. You can learn more about how we ensure our content is accurate and current by reading our editorial policy.