At a Glance:
SculpSure is a non-invasive treatment that uses a laser to target and remove or reduce fat. It can be used to target multiple parts of the body to tone down fat, making you look slimmer in general.
The cost of SculpSure treatment would vary depending on the clinic you're visiting. It would also depend on the chosen location of the client. Usually, in the US, SculpSure treatment would cost around $1458, but it could surge up to $2050.
Based on a total of 459 clients, 92% of them were pleased with the results of SculpSure, making it one of the most successful non-invasive treatments to lose fat.
Non-surgical treatments to eliminate fat have been buzzing the cosmetic world these days. Women and men prefer these methods because they have lesser risks, minimal discomfort, and the least recovery time.
One of the most talked-about non-surgical treatments is SculpSure. Let us get to know about SculpSure cost, treatment, side effects, reviews, and everything there is to know about this interesting procedure.
What Is SculpSure?
SculpSure is a safe and non-invasive treatment that uses 1060 nanometer wavelength technology that aims to eliminate or reduce stubborn fat. It's also a legal and valid method to lose weight as it's FDA-approved.
The SculpSure laser targets those unwanted fats in the body by heating the fat cells to a temperature between 42 and 47 degrees Celsius, thus destroying the structural integrity of the subcutaneous fat tissue.
Usually, SculpSure treatment time lasts for about 25 minutes that can target more than one area in your body. The SculpSure results will become fully visible after three months of treatment.
If you wish to find a similar kind of treatment, there are other comparable methods such as laser liposuction and get laser-assisted liposuction. You can get this treatment from Sono Bello – one of the top providers today. If you want the traditional way, you can always opt for a regular liposuction session. Another similar method is through Liposonix – a non-surgical treatment that uses ultrasound energy to destroy fat permanently. Before getting any of the two, consider knowing the average cost of liposuction and Liposonix and read reviews of them too. You can also consider researching on CoolSculpting, Smartlipo, and Zerona – all of these are equally effective though costs vary.
SculpSure Treatment: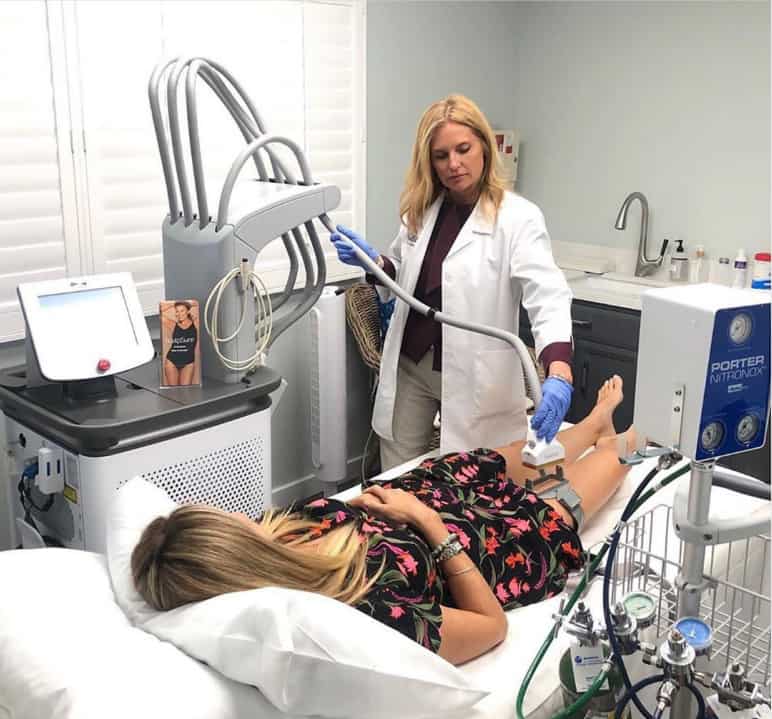 SculpSure treatments can be used to reduce fat in your chin, double chin, thigh, flank, legs, and lower abdomen. The number of SculpSure treatments you wish to have will depend on the results you want to obtain.
It is also upon the discretion of your medical expert if he/she will use simultaneously 4-laser applicators during the 25-minute procedure to obtain lasting results. The treatments are usually done in 1 to 3 sessions; however, it is advisable to wait for 3 months to see the optimal results of the first treatment before a second treatment is done.
For SculpSure Laser Fat Removal on the arms, flanks, and legs a two to three treatments can already make a difference. However, areas like the thighs and lower abs may need a few more sessions to get your desired contoured look.
Recently, the FDA has approved facial fat reduction through SculpSure. However, such a treatment has a weight limit and is ideal to be much more effective on people with a BMI that's lower than 30. SculpSure, on the other hand, has increased their limit up for a BMI of 43 but treatment is only to get rid of a double chin.
SculpSure Treatments for per Area:
Thighs– tones the thigh area and removes all those unwanted fats.
Arms– replaces a saggy arm to a toned and appealing one.
Flanks– eliminate stubborn fats near the hip and rib area.
Chin– reduces fat in the chin area.
Double Chin– redefines the chin area by eliminating double chin fat.
Legs– targets fat in the leg area to shape the legs even more.
SculpSure For Men
Men, nowadays, are also choosing SculpSure to get rid of the unwanted fats in their thighs, legs, flanks, and abdomen. Although the SculpSure cost hurts the budget, men still prefer this non-invasive treatment rather than the invasive liposuction.
Also, SculpSure doesn't cause any surface irregularities and incisions and scars which may be present if they have chosen the more aggressive liposuction. Plus, it is painless and only requires minimal to zero recovery time.
Does SculpSure Work?
To simply answer the question, yes it does work. However, don't expect it to work like magic or in an instant. You may be required to undergo 2 to 3 treatments to visually see the result after 12 weeks.
After the treatment, you will not immediately see the result because of the swelling which is a normal side effect of the process. Your result may be clear three months after the procedure.
How Much Does SculpSure Cost?
If you want to get this procedure, the cost of it would vary depending on where you're located. On average, the cheapest is around $700, but it could go lower. For the maximum price, it would depend on the clinic you're choosing.
Average Cost of SculpSure Treatments:
According to ASAPS or American Society for Aesthetic Plastic Surgery, the average cost of SculpSure is around $1458, but it could surge up to $2050. This is what you'll usually get in the US alone. However, there are a lot of payment plans and incentives given as well, so you're given an option on how to pay and what package to get.
SculpSure pricing varies with other countries; here is the average cost of SculpSure in different countries:
Aside from location, it will also vary depending on the number of applicators used by your medical practitioner.
SculpSure Cost Per Treatment
In the US, SculpSure price usually ranges from $375 to $3,900 depending on the location, the complexity of the treatment which includes the area and the number of applicators used, the professional fee of the expert, and the reputation of the clinic.
SculpSure Cost Per Area
SculpSure costs will depend on the area and the number of sessions you're going to take. If you plan to get one, it's best if you plan ahead so that you can prepare a budget.
Abdomen – The average cost for the abdomen to remove or lessen fat cells is around $2,800-$3,000. SculpSure price for abdomen is not far from Zerona which costs $3,000. 
Flanks – For the flanks, it can be as low as $2,500-$5,000.
Chin – If you want to have a slimmer chin, it's around $2,500-$5,000 as well.
Double Chin – Slimming the fat in the chin area, particularly the double chin is priced the same as the chin as well.
Cheeks – Cheeks are also under the same price range as the chin area.
Arms – For each arm, it can go as low as $2,000 and as high as $5,000.
Thighs – In general, if you're aiming for the thigh, the rate for this can go from $2,500 to $6,000.
Inner Thighs – The same goes for the inner thigh, which can be as low as $1,500 to $3,000.
Stomach – Lastly, as per the stomach area, the cost for treatment can be as low as $2,500 and as high as $5,000 depending on how much fat is removed.
SculpSure Prices List For Per Area
Below is the average min and max cost per treatment area for SculpSure.
SculpSure Specials / Coupon
In line with this, some clinics offer payment plans or incentives to their customers, since this is not covered by insurance companies. Some even offer SculpSure promo codes and coupons to give their customers a further discount.
SculpSure Result: What to Expect?
Upon treatment, you will feel a cooling sensation on your skin to keep you relax and comfortable during the duration of the process. The laser, on the other hand, heats your fat cells to 42° to 47° Celsius.
With this temperature, the fat cells heat up to a point that they shrink and are later on expelled through the lymphatic system of the body as a waste product. Normally, patients will feel a little tingling sensation in the area throughout the process which is at a tolerable level.
The treatment usually takes 25 minutes, and after the procedure, you can immediately resume your activities of daily living as the treatment doesn't require you to rest thereafter.
Is it permanent?
To ease your troubled mind, SculpSure is considered as a permanent solution to remove those stubborn fats. A study showed that it can kill up to 25% of subcutaneous fat cells in the remedied area.
However, it is also better to note that it will not affect the body's ability to increase the weight or a person's caloric intake. Thus, it needs to be properly maintained through a healthy lifestyle, exercise, enough rest, and so forth to enjoy the permanent results of SculpSure.
How Long Does SculpSure Last?
The SculpSure treatment alone can last up to 25 minutes. However, the results may not show up immediately due to inflammation in the treated area.
By 6 weeks, inflammation has already worn off by then. But the final and optimal result will be more visible on the 3rd month after the treatment.
What Are Some Possible Side Effects Of SculpSure?
Like any other procedure, it is expected that you would experience side effects that come after the procedure. It is important to know beforehand so that you won't panic or get anxious. These are the common side effects after the procedure.
Swelling– After the session, it is expected that the treated area may start to swell. Don't worry for it will just fade away in time.
Tingling sensation– The heating effects of the laser may cause you to feel a tingling sensation or minor pinching in the area. Massaging the area after the procedure may help you to recover faster.
Soreness on the treated area– Also, it is quite normal that you will feel sore in the treated area. Your medical practitioner may advise you to do massages to help you heal faster. It is advisable not to put any cream or anesthetic agent without consulting your licensed practitioner.
Bruising– You may see some red marks or bruises on the area treated with the SculpSure. No need to worry for it will just go by in time. It is advisable to prevent taking alcohol, blood thinning agents, ibuprofen, and the like weeks before and after the treatment.
SculpSure Reviews
Based on a review done by RealSelf, there are reviews about SculpSure of 457 clients, and 419 of them or 92% have been pleased with the procedure. They are satisfied and ecstatic with the result of the procedure.
Also, based on a survey done by realpatient.com, there are around 82.6% of SculpSure clients who are satisfied with their results. Overall, there are around 104 reviews done by clients from this survey, and it scored 4-stars in general – definitely a high rating when it comes to non-invasive treatments.
Positive Reviews:
SculpSure is safe– If you want a safe way to remove unwanted fat in the body, then this is the method for you as it's non-invasive and nonsurgical. This is one of the reasons why the Food and Drug Administration allowed this, making it the 1st laser procedure in the world to be approved by the FDA.
Efficient and Time-Saving– Because you can be treated in multiple areas like the abdomen, flank, and lower belly all at the same time, it's efficient. What's more is that a single session can just take 25 minutes, making it not only convenient but time-saving too.
No scarring and long-lasting– Because it does not need any injections or surgical procedures, you'll have no scars at all. Plus, because it simply just burns layers of fat cells in the targeted area in a quicker way, the effect will be long-lasting and much more natural.
Complaints:
The most common complaints about SculpSure patients' say is that they feel tender in the areas where the treatment was done. This usually happens a few days after the procedure. There are times when bruises, swelling, and bumps will appear too but would just go away on their own. Lastly, results and sessions take time, but to those who are willing to undergo this procedure, they're willing to take it.
Overall, while there are some cons to SculpSure such as the side effects and the duration of the treatment overall, there's no denying that this method, after successive treatments, can significantly reduce body fat in general. It's safe, efficient, and time-saving when it comes to how quickly a session is done, and it will not have any scarring on your body at all.
To gain more knowledge about this procedure, you can read more in-depth reviews from social media groups, you can take a look at some of the most popular communities for SculpSure today.
For Facebook, you can visit the Facebook SculpSure Community to be a part of one of the most active groups on this social media. Currently, there are around 75,000 people who followed this page and around 74,000 who liked it.
If you're more of an Instagrammer, the Instagram SculpSure Community will welcome you with open arms. Right now, the community has 19,000 followers and is still increasing. Be one of them now to get more updates about SculpSure.
Give these social media pages a try to gain more insight into this treatment.
SculpSure Near Me (Locations & How to Find)
If you want to find a SculpSure clinic near your area, you can visit SculpSure's page and type in your location. From there, you'll be directed to the nearest branch, making it convenient and accessible for you.
If you're from New York, these are some of the well-known SculpSure branches that you can visit:
Lenox Hill Laser Esthetics at 210 East 68thStreet, Suite 1F, New York, NY 10065
NYDG Integral Health and Wellness at 119 5thAvenue, 2nd Floor New York, NY, 10003
CryoEmpire at 433 5thAvenue, 6th Floor, New York, NY, 10016
Anna Avaliani MD Cosmetic & Laser Surgery at 30 East 60th, New York, NY, 10022
Colbert David at 103 5thAvenue, New York, NY, 10003
Skintology MedSpa by Jennifer Walden at 157 East 57thStreet, Floor 1, New York, NY, 10022
The Dermatology and Laser Group at 200 W 57th, Suite 510, New York, NY, 10019
SculpSure Machine Cost & Where to Buy
The price of the SculpSure Machine ranges from $10000 to $20000. There is a lot of SculpSure machines for sale in the market. You can either buy it in Cynosure SculpSure or through other sites including Alibaba.
Just make sure you buy from a trusted source and try to research on the latest feature to make sure you got the most high-end machine in the market.
SculpSure Alternatives
SculpSure is a flexible treatment that has a lot of alternatives that you can choose from. They are divided into 2 categories: non-invasive and surgical body contouring methods. Read on below for more details.
Non-Invasive Body Contouring Treatment
This is a SculpSure alternative that does not require surgery to perform the procedure. Below are some of its categories.
Vanquish– Vanquish is the latest non-invasive fat reduction treatment that uses an applicator to induce heat and radiofrequency waves to the target fat cells. For a 30-minute session, it usually costs between $500 to $800. SculpSure vs. Vanquish is more or less the same as they both use heat to kill off adipose tissue or fatty cells but vanquish also incorporates radiofrequency waves together with heat to kill off the unwanted fats. With SculpSure, you could already visually see a difference after 1 to 2 (25-minute) sessions only, while in Vanquish it may require 4-6 treatments that may take 30 minutes on average every week to achieve optimal results.
Vaser Lipo– Vibration Amplification of Sound Energy at Resonance or Vaser Lipo is a non-invasive treatment that has been introduced in the cosmetic world more than a decade ago. A safer and cheaper alternative to liposuction, Vaser Lipo makes use of ultrasound energy to melt the adipose tissue, which can, later on, be suctioned out easily. Vaser Lipo cost usually ranges from $2000 to $8000 depending on the body part you want to be treated.
Vaser Shape– Vaser Shape is a non-surgical treatment to smoothen and shape your curves. It uses combined massage therapy and ultrasound to treat the adipose tissue underneath the skin. This is usually recommended after Vaser Lipo to promote a fast recovery and reduce post-op swelling and pain.
UltraShape– UltraShape is a non-invasive fat reduction that uses non-thermal ultrasound waves to destroy fat cells. You will be asked to wear a special belt around your abdomen. In this method, the interstitial fluid surrounding the fat is exposed to rapid alterations of ultrasound waves to release energy, resulting in the breakdown of adipose tissue. SculpSure vs. UltraShape has a different method in breaking down fat; while SculpSure uses a laser to increase the temperature to kill off fat cells, Ulrashape uses ultrasound technology. While SculpSure costs $2000 on average Ultrashape only costs around $1200 to $1500.
Zerona– Zerona is one of the most preferred non-invasive body contouring treatment. It uses a laser to shrink fat cells and usually costs around $1500 to $1700 for six treatments. It has no side effects or allergic reactions whatsoever.
Venus Freeze– Venus Freeze is more on the anti-aging side as it tightens the skin to eliminate wrinkles. It uses a Pulsed Electromagnetic Field and a Multi-Polar Radio Frequency to heat the tissue underneath the skin to make more elastin and collagen fibers.
Surgical Body Contouring Treatment
This is a SculpSure alternative that requires surgery to perform the procedure. Below are some of its categories.
Tumescent Liposuction– Tumescent liposuction is an invasive body contouring treatment to remove fat that involves the infiltration of Klein's solution followed by aspiration of fat through the microcannula. The recovery time for this procedure usually lasts for 24 hours requiring only minimal oral pain killers. However, this can be done as an outpatient procedure as opposed to the conventional liposuction. Weight gain after liposuction may cause the remaining adipose tissue to grow, making the result of the procedure less ideal. Therefore, it is essential to maintain a healthy lifestyle and do proper exercise to prevent such a scenario.
Smartlipo– Smartlipo is a type of liposuction that uses laser energy to dissolve fat before the cosmetic surgeon sucks it out. This makes it much easier to remove the fat and, in turn, causes less bruising. A good candidate for such a procedure is those that want to reduce fat but do not have too much loose skin. This is only ideal for people with less amount of fat.
Tummy Tuck– Tummy tuck or Abdominoplasty is the surgical removal of excess fat and skin. It also restores separated or weakened muscles thereby creating a firmer and smoother abdominal profile.
Final Thoughts
SculpSure is a non-invasive treatment to kill off those stubborn fats in the thighs, abdomen, arms, flank, etc. It uses a laser applicator to increase the temperature of the fats thereby destroying it. It only takes about 25 minutes and 1-2 sessions are enough to see the difference after 12 weeks. It is a non-surgical and less expensive alternative to conventional liposuction. Thanks to SculpSure, killing those unwanted fats is pain-free, less expensive, and within reach.
---
Sources
TopLiposuctionCost has strict sourcing guidelines and relies on peer-reviewed studies and academic research institutions.
We avoid using tertiary references. You can learn more about how we ensure our content is accurate and current by reading our editorial policy.